Casbah Presents
Metal Rock
Sat
Feb 15
9:30 pm
PST
(Doors:

8:00 pm

)
Ages 21 and Up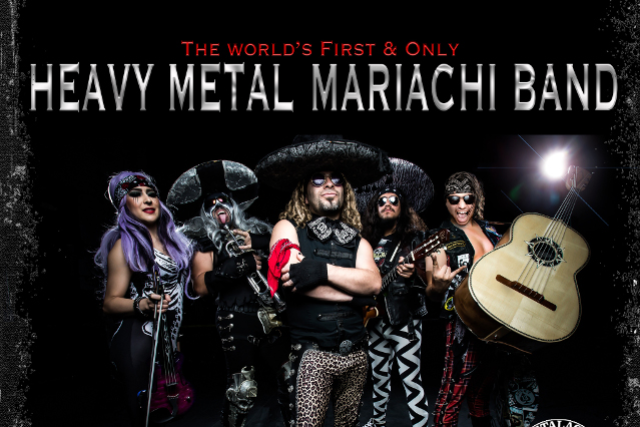 $20.00
Get ready to rock out to the World's first and only heavy metal mariachi band.

Not on the e-mail list for Presales? CLICK HERE to sign up to be a Music Box VIP and you will never miss a chance to grab tickets before they go on sale to the general public again!
Genre: heavy metal / mariachi
Ticket Price: $20 advanced & day of show/ Music Box Dinner + Show Package for 2 (online only — Limited Availability)

Music Box Prix Fixe Dinner Package for 2 - $104
Includes:
-2 general admission standing Metalachi tickets
-Prix Fixe Dinner for 2
-First access to our third floor viewing area!
Dinner starts at 8pm at Music Box located at 1337 India St.
Need to contact the venue? BoxOffice@MusicBoxSD.com
PARKING: Street parking and paid lot parking available.
TABLE RESERVATION / VIP: vip@musicboxsd.com / (619) 836-1847
STALK US: Twitter + Instagram: @musicboxsd | facebook.com/MusicBoxSD | MusicBoxSD.com | The Music Box (619) 795-1337.
BOX OFFICE HOURS Monday - Friday 11:00am - 4:00pm
MUSIC BOX IS STANDING ROOM ONLY UNLESS OTHERWISE NOTED
Metalachi
Metal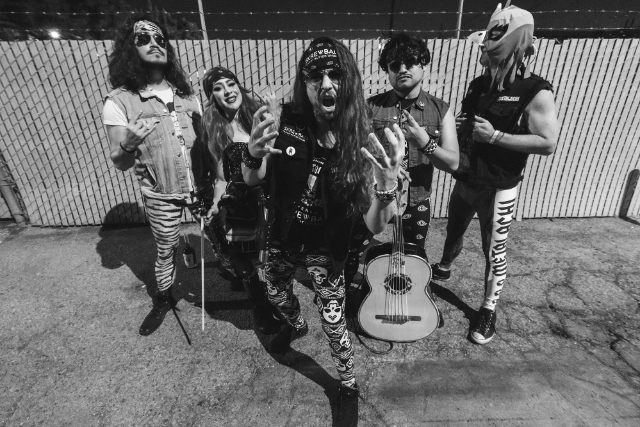 On a hot summer night in Veracruz Mexico circa 1982, Consuela Espinoza stumbled out of her dilapidated shanty and into Rock N Roll history. What began as an innocent night of snorting horse tranquilzers in a hotel room with seven members of the village jai alai team went on to produce the greatest metal band to ever live. Unhampered by a steady regime of tequila and ill advised sumo lessons, nine months later five bastard children where born. Unable to care for her hungry offspring and concerned that motherhood would seriously interfere with her Tuesday night Karaoke league, Consuela hastily packed the babies into the saddlebags of a burro and sent her children off to America in search of a better life. Against all odds, 14 years later, and nearly dead from dehydration, the burro knelt down to drink from the stagnant waters of the Rio Grande just ouside of Juarez Mexico --mere yards from the U.S. border. With one fleeting burst of energy the brothers Espinoza cinco climbed from their leather restraints and scampered the vast reach of the river, collapsing onto the sweet amber hue of American soil. As if by destiny, lodged in the sand beneath their tanned faces was a record sleeve upon which were the words "PARANOID" and "BLACK SABBATH". For many years to follow, this definitive black metal album served not only as a teacher and a mentor..but also as a friend. From these bleak and humble begins grew the seed that would eventually be the band we know today. Often referred to as the greatest heavy metal band to ever live..always referred to as...
Geezer (Weezer Tribute)
Rock
GEEZER est. 1910
"The world's greatest coverband." -San Diego City Beat Weekly
Geezer blend rock, comedy, rap and barbershoppe to hilariously swing the entire history of popular music from AC/DC and Dr Dre back to Buddy Holly and the Beatles, mashed up mid-song with spot-on Weezer and Beastie Boys hits. The world's oldest coverband has been an answer on NPR's Ask Me Another, appeared in a KIA advertisement with Weezer at the band's personal request, headlined Long Beach's sold-out first annual Littlepalooza festival for young grandkids and opened for Vanilla Ice, Coolio and Young MC in front of 6000 hiphop fans for Magic 92.5FM at San Diego's Petco Park. One of the most unique acts of all-time, they're probably the only band on earth that has played dive bars, rap shows, bar mitzvahs, retirement parties, comedy clubs, three-set casino gigs and punk festivals all over the west coast....then passed out cookies.