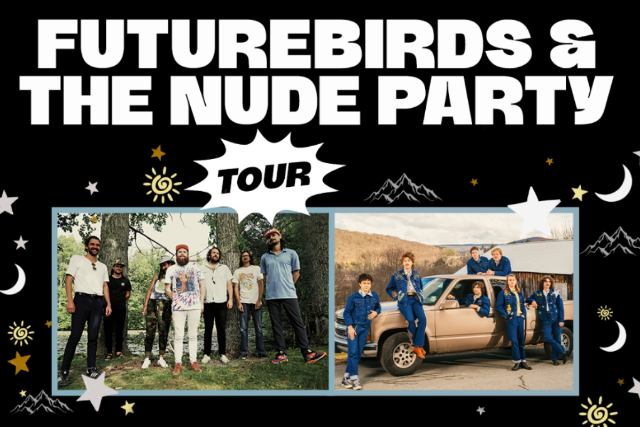 Futurebirds

The music is a patchwork amalgam of influences, including: twangy Southern rock (they've opened for the Drive-By Truckers), reverb-soaked psychedelia reminiscent of early My Morning Jacket or fellow Athens residents Phosphorescent, soaring guitar solos à la Neil Young and Crazy Horse, rhythmic jangle from that other Athens band, REM, multi-part vocal harmonies (which every band ought to have, dammit), and, weaving through it all, lyrical slide guitar. - Vox.com

The Nude Party

For The Nude Party, nearly a decade has flown by in the blink of an eye. In that time, the New York-based band has released a pair of well-received albums, an EP, and played countless shows. Prior to the pandemic, the band was really starting to hit its stride. They had a system in place and were spreading their brand of melodic rock to the masses. In fact, they could count Jack White, Arctic Monkeys, and Orville Peck as vocal supporters, which led to support slots for each. Soon, incredible live appearances at Bonnaroo, Lollapalooza, Newport Folk Festival, and Shaky Knees became the norm.

Over the course of the last two years, The Nude Party decided to produce their new album, Rides On, themselves. With the help of Matthew Horner, The Nude Party had as much fun creating as they ever had at any other point in their career. Their new album includes 14 songs that dabble in electro-pop and stripped-down country. The Nude Party coalesced and embraced the spirit of collaboration. They're excited to begin the next chapter of their career.

At a time when it would have been easy to pack it in, the band continues to persevere.