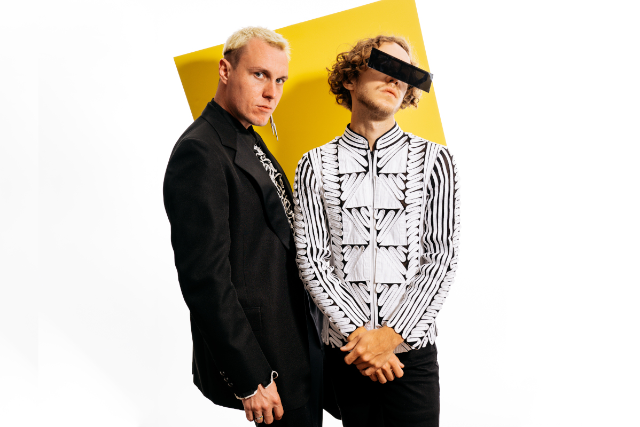 Capyac

CAPYAC is a surreal dance act with as much Berlin/Detroit/French electronic influences as jazz, funk and the swirl of modern genres mixed in. Started in Austin, TX with a consortium of collaborators, the founding duo is now based in Los Angeles, CA regularly featuring guest vocalists, dance troupes, and fish mongers to elate and enlighten.

Their debut single "Speedracer" set the stage for an avant-garde aesthetic alongside chill Rhodes piano, slowed nudisco beats and funky guitars. With "Headlunge", "Fis", "Who is Donny Flamingo?" and the latest "Baby Make Money" multi track releases, we saw the musical partners P. Sugz and Potion dabbling in minimal techno, spy-movie theme songs, trap jazz and every genre amidst the kicks and snares. With regular contributions from saxophonist Papa Mongoose, MC Rudi Devino, vocalists, nay jesters Oolaf, Ciceley Fullylove & Bean and percussionist/daredevil The Hollywood Jingle, their live shows are infamously full of antics you'll only see at a CAPYAC show -be it freshly griddled pancakes tossed from the ACL Fest stage, wild musical and theatrical improvisations at Capitol Hill Block Party, Twilight at the Pier and Euphoria Fest or puppeteering across California's finest stages.


HIGHLIGHTS:

- new single and video for "Dirty" out Jan 31st (PR, radio, digital campaigns supporting)

-accumulated over 1M listeners and over 9million streams on Spotify, over 2.5million streams on Soundcloud, 900k streams on Apple Music plus more across YouTube, Amazon, Deezer and more

- CAPYAC are currently collaborating and remixing tracks with La Femme, Spencer Ludwig, Cool Company, Miami Horror, MOONZz and more for future releases with Kitsune Musique, TheSoundYouNeed and Arts & Crafts MX

- Upcoming performances in Los Angeles, Paris, Berlin, London, Copenhagen, Austin, Tijuana, Costa Mesa, San Diego and more.

- Liberty Music working online press behind steady single releases, targeting support from i-D, PAPER, Warp, Consequence of Sound, Ones to Watch and more

- toured US/Europe/Mexico, played Austin City Limits Festival, Euphoria Fest, Capitol Hill Block Party, Float Fest, UtopiaFest, Backwoods Music Festival, SXSW and more throughout 2017-19

- supporting slots for CLASSIXX, Washed Out, Tennyson, Lettuce, Holy Ghost, Joywave, Grupo Fantasma, The Bright Light Social Hour, Golden Dawn Arkestra and more

- previous coverage from FADER, EARMILK, blahblahblahscience, High Snobiety, Bullett Magazine, Funky Panda, KUTX and many more

Sunsets

Sunsets is an electronic dance/r&b producer from San Diego, California. He combines a new wave of electronic music with a crossover of organic music genres like funk, indie soul and pop. Inspired by the sounds of SG Lewis, Tame Impala and Kaytranada, Sunsets takes each release to a new dimension of constant creativity and imagination.

TCHiLT

Teran Chilton Faust, aka TCHiLT (tea-chilt) is a producer, songwriter, and musician who's mission is simple: to make people dance. Infectious bass lines meet nostalgic melodies while playful vocals dance atop organic percussion, breathing life into the electronic world. Combining groovy synths with live instruments and authentic lyrics, TCHiLT brings the soul of old-school funk to modern dance music.

TCHiLT has been writing music for over 10 years, and producing dance music for 6. With over 300 unreleased records and remixes, TCHiLT delivers an all original set every time. From light and funky day time grooves to dark and chunky dance floor favorites, each one of his sets offer a unique and unforgettable experience that only TCHiLT can deliver. His past releases have landed on Fantastic Voyage, OKNF, TONS & TONS, and Inquiry Records, with features on Desert Hearts, Box of Cats and POPGANG Records.

In addition to his solo project, TCHiLT is a co-founding member, producer and performer of the live-electronic band, Boiz House. Fresh off of performances at Dirtybird Campout, Lucidity, and Northern Nights Music Festival, Boiz House is quickly gaining recognition in the festival circuit as a must-see act. Whether you see him live in Boiz House or solo, TCHiLT offers an exciting, unexpected sonic and visual journey that leaves the audience laughing, dancing, and connected.