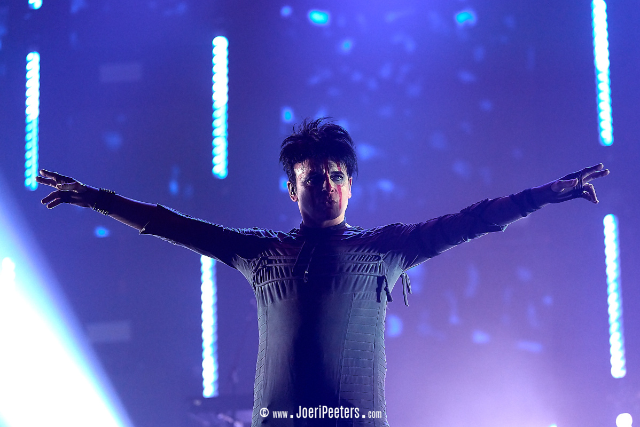 Gary Numan

May, 1979. It's an ordinary Thursday evening, which means it's time for Top of the Pops. Amidst a zeitgeist of punk and disco, the show suddenly appears to be interrupted by a transmission from the future. A luminous synth riff echoes out, a beat drives on and up steps an otherworldly figure - part robot, part alien - to deliver an enigmatic lyric depicting some kind of android existence in a dystopian future. It's Gary Numan fronting Tubeway Army for their breakthrough hit 'Are 'Friends' Electric?'.

Of the millions that are watching, few would've recognised that this moment foreshadows the shape of music to come, from synth-pop to industrial and alt-pop. That, however, can't stop it igniting the imagination of an audience that would swell into a devoted following.

Fast-forward to January, 2021. Numan's first single 'Intruder' (from the Intruder album) pulsates ominously as if it's soundtracking an imminent threat. As austere synths loom like shadows and industrial beats are detonated, the beguiling hook towers like a beacon in the darkness. It's visionary and venomous, with a narrative that imagines the Earth growing angry at mankind's actions, and more than willing to fight back. In the accompanying video, Numan looks even more out of time than he did back in 1979, like an intergalactic refugee fighting for his own existence.

Those two songs show how Numan has consistently fought against the grain to stick resolutely to his creative vision. In a career that spans over forty years, the music evolves and the themes change. But fans remain fascinated by Numan for the very fact that he's so uncompromising.

Any story charting four decades will be a mixed blessing of momentous highs and meagre lows. The achievements are remarkable for someone who never made any concessions to mainstream success. Seven Top 10 singles, including 'Are 'Friends' Electric?' and the debut solo hit 'Cars'; eight Top 10 albums, three of which topped the charts; and huge critical acclaim, most notably with the Inspiration Award at the prestigious Ivor Novellos.

Naturally, there were times when Numan was very much not in vogue. Sure, there would be ripples of rediscovery but there were years when his increasingly conceptual albums were primarily embraced by hardcore fans. He wasn't troubling the charts, but audiences were still flocking to see him perform - almost every UK tour would include a sold-out show at the 5000 capacity Hammersmith Apollo.

Gradually, though, praise from Nine Inch Nails, Prince and David Bowie led to a reappraisal of his work. And that has been magnified in recent years with Kanye West, Lady Gaga and Dave Grohll citing him as an influence.

And so, a new narrative emerged. An unlikely icon returned to the top while making music that was darker, fiercer and more inventive than ever.

'Splinter (Songs From A Broken Mind)' set the ball rolling by peaking at #20 in 2013, its precise, post-industrial sound delving into Numan's experiences with depression. He started a new deal with BMG in 2017 and released 'Savage (Songs From A Broken World)', an album which depicted earth as a barren wasteland in which humanity and culture had been largely crushed by the effects of global warming. 'Savage' hit #2 in the UK charts.

His latest album 'Intruder' presents a fresh but complementary narrative. It's a philosophical examination of a potential future apocalypse: the planet can only survive by purging its inhabitants. 'Intruder' also hit #2 in the UK charts.

Numan explains: "'Intruder' looks at climate change from the planet's point of view. If the Earth could speak, and feel things the way we do, what would it say? How would it feel? The songs, for the most part, attempt to be that voice, or at least try to express what I believe the earth must feel at the moment.

The planet sees us as its children now grown into callous selfishness, with a total disregard for its well being. It feels betrayed, hurt and ravaged. Disillusioned and heartbroken it is now fighting back. Essentially, it considers human kind to be a virus attacking the planet. Climate change is the undeniable sign of the Earth saying enough is enough, and finally doing what it needs to do to get rid of us, and explaining why it feels it has to do it."

Partially written and recorded during lockdown, it's no surprise that current circumstances have been assimilated into its themes. It's especially evident in 'The Gift', which evolves from a sparse introduction into a resonant Middle-Eastern sonic motif. It imagines Covid-19 as the first weapon that the planet deploys in order to eradicate mankind and once again flourish.

While anger and vengeance rage in its opening chapters, 'Intruder' charts a wider spectrum of emotions. 'Is This World Not Enough' and 'A Black Sun' exude regret and then despair that this fate could've been avoided. The finale presents a black-hearted double-bill to bring the curtain down on the tale. First 'Now And Forever' offers a hope of eternity in the end days during its theatrical intensity, before the sparse, sorrowful 'The End Of Dragons' ends on the chilling reminder that what's broken can't always be fixed.

Collectively the album proves that Numan's creative spark shows no sign of being extinguished.

Numan has toured the Intruder album at over 80 shows around the world in 2022 and there are still more shows to come in 2023. Before that gets underway though he's already back in the studio writing and recording his next (and 23rd) album.

That's just a snapshot of the tale behind one of music's most singular talents. The full story can be found in Numan's critically acclaimed autobiography '(R)evolution', which The Observer described as an, "exhaustive, entertaining and often poignant life story." What comes next will surely be just as intriguing.