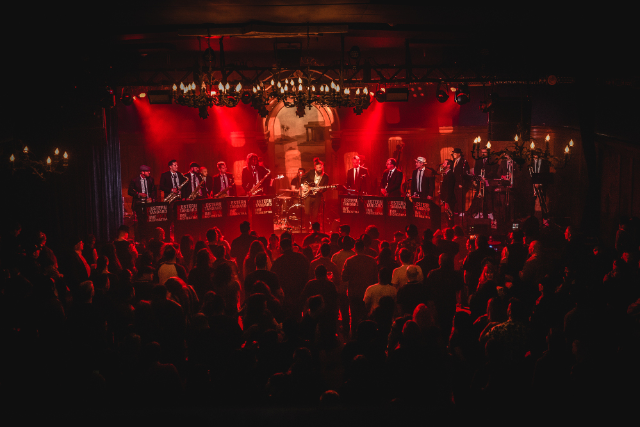 Western Standard Time Ska Orchestra

Western Standard Time Ska Orchestra is a raw, powerful and in your face musical experience. This massive 20-piece group of All Star musicians is a spectacle to both watch and hear. With a horn section three times bigger than most other ska groups, WST breaks barriers and expands your imagination for what is possible. The groove ishard hitting and will definitely make you dance all night! WST Ska Orchestra has wowed fans headlining festivals both domestically and abroad in Mexico, Canada and throughout Europe. It boasts a killer All-Star lineup fromthe fabled West Coast traditional ska scene with members from The Aggrolites, Beastie Boys, Hepcat, Gogol Bordello, See Spot, The Allentons, Mobtown, Kingston 10, The Debonaires and many more. They have also collaborated with a number of vocalists over the years including Angelo Moore from Fishbone, Jesse Wagner from the Aggrolites, Greg Lee and Alex Desért from Hepcat, Chris Murray, The Expanders, Gina Saputo, Queen P, Vic Ruggiero from the Slackers, Mr. T-Bone from Italy and many more. This group of Jamaican Jazz gunslingers is rebranding the music of yesteryear and propelling it into the future!

Smoke and Mirrors Sound System

Smoke and Mirrors Sound System came about as a response to the Covid Lockdown. John Roy (Unsteady/ English Beat) was stuck in his closed music rental shop with no prospect of a show.
He took scraps of ideas he'd sequenced and with the idle hours, he began forming songs. John reached out to dozens of musicians he'd met touring over the decades and came up with multiple albums' worth of material, including his favorite covers from his youth.
Songs are reimagined as reggae/ska/rocksteady/dub to give them a toe-tapping, head-bobbing groove. Immediately after live music was allowed to reemerge, John gathered together his favorite players in San Diego, Tijuana and Los Angeles touring the imaginary to life!
Check out a set, packed with classics and originals to fill the dance floor.