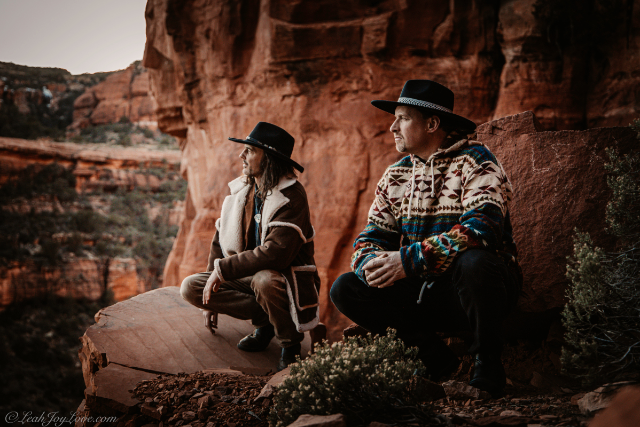 Dirtwire

Dirtwire stands poised between ancient Mother Earth and modern technology, a blend of ethnomusicology and the psychedelic trance state, gut-bucket delta blues and what the band variously dubs "back-porch space cowboy blues, swamptronica, and electro-twang." It's a sound informed by Dirtwire's travels and performances around the globe, where East meets West and North joins South. From the favelas in Brazil, Femi Kuti's Shrine in Lagos, Tokyo's bluegrass clubs, Ayahuasca ceremonies in Central America, Gamelan performances in Bali, desert festivals in the Australian Outback, and the 20th anniversary of Kazakhstan's modernized new capital Astana, the band spreads its message by building bridges across musical cultures in their own unique way.

Dirtwire plays an array of instruments both ancient and modern, including West African kamale ngonis, jaw harps, space fiddles, whamola basses, Rickenbacher electric 12 string guitars, bowed Banjos and mouth harps from around the globe, all interwoven into modern laptop beat creation. Hailing from the underground west coast electronic bass music scene Dirtwire finds itself at the forefront of experimental electronic music production mixing in their wide array of world instruments with sampled beats and 808's. Dirtwire's live shows are a communal psychedelic journey, ranging from down home boot stomping get downs, to bass and blues electronic mashups, to ethereal cinematic beat driven soundscapes. Woven into each is the exploration of where live instruments meet computer production, and where tradition meets experimentation.

Red Giant Project

"Combining the sounds of neo-soul and hip-hop with experimental bass and additional electronic elements make Red Giant Project an expertly crafted body of work...a classic feel to it yet is injected with fresh, new-age production that makes it truly memorable….dips into many genres, allowing it to take on a life of its own ...If you love funky electronic music and want to get down and dirty on a makeshift dancefloor, then this unique album is one you definitely need to listen to." -EDM Identity.

"Red Giant Project thrives in live shows, especially festivals. Onstage, they show off some of their instrumental weapons, including John Avery on tenor sax, Tah Rei who plays a vast assortment of unique instruments, including the Piccadilly baritone sax, various clarinets, and the Theremin. Plus, when available, Rolling Stones' sax player Karl Denson who's also featured throughout the recorded album, will join in on the live show. All the sounds and voices of Red Giant Project hold their own blending in immaculate sound production...at their shows, they can play up to 90-minute sets without breaks, making the performance a true experience. The sound starts off psychedelic and then takes off for other realms."

-Source Magazine.

"Red Giant Project has an interesting sound that can truly be described as experimental....the Album digs into all ends of their sound, with a range of styles and variations as you move through the tracks...they continue to forge a new path in music and create beautiful and intentional works of art."

- Hip Hop Weekly.

It's fresh, yet Mature. Live, yet premeditated. An authentic collection of different abilities, maximized, within a vast detail of sound-design.