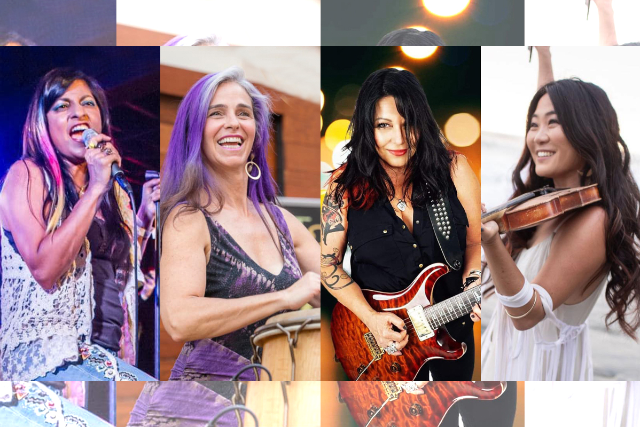 Shamini Jain

Shamini Jain is a singer, scientist and healing empowerment teacher who has found herself singing everything from opera to heavy metal, in venues ranging from avant-garde art galleries in New York to Southern California's House of Blues and Viper Room. The former and founding lead singer of San Diego's Iron Maiden tribute Up the Irons as well as GnR tribute Nuns n Moses, Shamini interweaves diverse vocal influences ranging from Jeff Buckley, Joni Mitchell, Janis Joplin and Bruce Dickinson to ignite ecstatic joy for her audience through unifying them with vocal power. Her debut original album, "Kali Yuga Blues", fuses 90s hard rock, metal, folk and mantra influences to share the universal experience of being human - rocking across genres, cultures and identities.

Monette Marino

Monette Marino is a world percussionist. She spent the majority of the last 20 years studying under Master Drum-mer Mamady Keita from Guinea. In 1999 she received her Teaching Certificate from Mr.Keita and opened a branch of Tam Tam Mandingue USA in San Diego, California. From 2004–2012 she managed Mamady's world tours, assisted him in teaching master classes, and performed with his ensemble, Sewa Kan. She received her diplo-ma from Mamady Keita & Tam Tam Mandingue in 2011.

She has since branched out as a solo artist releasing her debut album "Coup d'Eclat" and also opened her own school of percussion called MO'RHYTHM. In addition, Monette Marino has created an iPhone App "Mo'Rhythm Africa – Play Along Djembe/Dunun App" now available on iTunes for iPhone/iPad/Apple TV. Prior to her involvement in West Afri can percussion Monette studied folkloric and popular rhythms from Cuba, Brazil, and Korea.

Roni Lee Group

Roni Lee has performed for thousands of fans around the world - from intimate clubs to major festivals. She is one of the music industry's most sought after female guitarists and is invited regularly to join all-star jam nights around the country.

Roni Lee is an LA-based award-winning artist, singer-songwriter and guitarist. Former lead guitarist for Venus And The Razorblades, and gold record co-writer of the Runaway's hit, "I Want To Be Where The Boys Are".