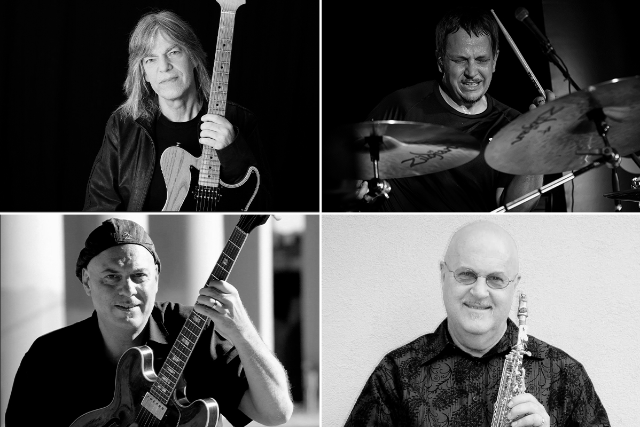 The Music of STEELY DAN featuring MIKE STERN, KEITH CARLOCK, DREW ZINGG, TOM SCOTT & Special Guest JEFF "SKUNK" BAXTER

FEATURED MUSICIANS:

- Special Guest JEFF "SKUNK" BAXTER (Original STEELY DAN Co-Founder,Lead Guitarist, playing on several songs with the Band)

- MIKE STERN (Guitar) - Played with MILES DAVIS, JACO PASTORIOUS, more. (See BIO below)

- KEITH CARLOCK (Drums) - Current STEELY DAN drummer. (See BIO below)

- DREW ZINGG (Guitar) - Former STEELY DAN Lead Guitarist on 1990s tours. (See BIO below)

- TOM SCOTT (Saxophone) - Grammy Award Winner who played/arranged on Albums "AJA" and "GAUCHO". (See BIO below)

BACKING MUSICIANS:

- Miguel Torre (Fender Bass)

- Art Fisher (Lead Vocals)

- Kristin Silver (Keyboards)

- Amanda Barnett (Backing Vocals)

- Elyse Ramsdell (Backing Vocals)

- Brad Steinwehe (Trumpet)

****************

MIKE STERN:

One of the top guitarists in jazz since his breakthrough days with Miles Davis' celebrated comeback band of the early 1980s, Stern has earned the respect of colleagues and critics alike while also exerting a towering influence on a generation of aspiring players. A guitarist of formidable technique, he continues to awe and inspire six-string aficionados with his seamless blend of bebop facility, scorching rock intensity and uncommon lyricism. As Jon Chappell of Guitar magazine noted, "Stern is not only a magician of the fretboard but a heartfelt and mature composer of great depth." By combining the legato approach of jazz saxophone greats like John Coltrane, Sonny Rollins and Joe Henderson with a few touches from the rock camp (i.e., distortion and delay pedals along with some urgent string bending, courtesy of his boyhood blues heroes B.B. King and Buddy Guy), Stern has successfully fashioned a singular voice that comfortably occupies both rock and jazz worlds. In 1985, Stern made his recording debut as a leader with Neesh on the Japanese Trio label. A year later, he made his Stateside debut as a leader on Atlantic Records with Upside Downside, which featured such celebrated colleagues as alto saxophonist David Sanborn, tenor saxophonist Bob Berg, bassists Mark Egan, Jeff Andrews and Jaco Pastorius, keyboardist Mitch Forman and drummers Dave Weckl and Steve Jordan. In the summer of 1986, Stern took to the road with David Sanborn and later joined an electrified edition of Steps Ahead, which featured Mike Mainieri on midi vibes, Michael Brecker on the Electronic Wind Instrument (EWI), Darryl Jones on electric bass and Steve Smith on drums. That powerhouse fusion outfit was documented on Live in Tokyo 1986. Over the next two years, Stern was a member of Michael Brecker's potent quintet, appearing on the tenor titan's 1988 album, Don't Try This At Home. Following multiple Album releases, the guitar great continues to play with peerless authority while flaunting prodigious chops on 2017's Trip and now exhibits that same impressive six-string prowess on Eleven.

****************

KEITH CARLOCK:

Keith Carlock is a professional drummer currently residing in New York City, NY and Nashville, TN. He has recorded and/or toured with such musical luminaries as John Mayer, Sting, Steely Dan, James Taylor, TOTO, Christopher Cross, Donald Fagen, Walter Becker, Diana Ross, Faith Hill, The Blues Brothers Band, Mike Stern, Leni Stern, David Johansen and the Harry Smiths, Richard Bona, Chris Botti, Wayne Krantz, Rudder, Harry Belafonte, Oz Noy, Larry Carlton, Clay Aiken, Rascal Flatts, Paula Abdul and Grover Washington, Jr, to name a few. Keith was recently voted number 1 Pop drummer, number 1 Fusion drummer, and number 1 Best All-Around drummer in Modern Drummer's 2009 Readers Poll and would like to thank all that voted! Keith's first ever instructional DVD is now out with Hudson Music! It's entitled "Keith Carlock- The Big Picture: Phrasing, Improvisation, Style, & Technique, and you should get your copy now!!!

****************

DREW ZINGG:

Drew Zingg was lead guitarist and musical director of Steely Dan for their reunion tour in 1993, continuing in that capacity through 1995. During this period he toured with the band throughout the United States, performing at such venues as Madison Square Garden in New York, the Greek Theater in Los Angeles and the Shoreline Amphitheater in San Francisco, and other stadiums across the country. A sampling of these appearances were recorded and released as the Giant Records release, "Steely Dan; Alive in America." His tenure with the band also included

a tour throughout Japan in 1994. Drew's guitar work is featured on the Donald Fagen Box Set, "The Nightfly Trilogy." Preceeding his work with Steely Dan, Mr. Zingg worked with Donald Fagen as lead guitarist and music director for Mr. Fagen's "New York Rock and Soul Revue", an aggregation of artists that included Walter Becker, Michael McDonald, Boz Scaggs, Phoebe Snow, and Patti Austen. "The New York Rock and Soul Revue" toured extensively throughout the States and culminated in the Giant Records release, "Live at the Beacon." Drew toured for the several years with Boz Scaggs and Michael McDonald in the U.S., Canada, Australia, New Zealand and the Far East. His work with Mr. Scaggs is prominently featured on the "Greatest Hits Live" CD and DVD.

He toured and recorded in the last 3 decades with David Sanborn, Marcus Miller, Shawn Colvin, Rickie Lee Jones, Gladys Knight. Drew's work with Michael McDonald was prominently featured in the film "Leaving Las Vegas" starring Nicholas Cage and Elizabeth Shue. Drew delivers a blistering solo on a revamping of the Doobie Brother's "Minute By Minute", featured on Michael McDonald's greatest hits package. He did extensive work on Broadway, as lead guitarist in the shows Jersey Boys, Spamalot, Hairspray, Mamma Mia!", and "Smokey Joe's Café", the Music of Lieber and Stoller whose cast album features Drew's work, and won a Grammy Award for best Broadway soundtrack. In Guitar Player magazine, Mike Keneally noted of a Drew Zingg performance, that he "..burned so resolutely, the stars were singed." Jon Pareles of The New York Times describes Mr. Zingg as "superb"…and Pat Metheny has said that Drew "..is the best guitar player I have seen in years".

****************

TOM SCOTT:

Tom Scott is a renowned composer, arranger, producer, music director, saxophonist and educator. His 33 solo recordings have earned him 13 Grammy nominations and 3 Grammy awards. In 2013 he produced a CD for young ukulele master Brittni Paiva which won a Hawaiian Grammy for 'Ukulele Album of the Year', and in 2017 received his first Emmy Award nomination for Musical Direction of the Tony Bennett 90th Birthday TV Special on NBC. Tom's career as a guest artist spans more than 2000 recordings—by such diverse artists as Barbra Streisand, Quincy Jones, Thelonious Monk, the Blues Brothers, Frank Sinatra, Aretha Franklin and Aerosmith. His numerous contributions as a player and arranger include Joni Mitchell's Court and Spark and Miles of Aisles, Steely Dan's Aja and Gaucho; hit singles like Carole King's "Jazzman," Paul McCartney's "Listen to What the Man Said," Rod Stewart's "Do You Think I'm Sexy," Blondie's "Rapture,' Toto's "Rosanna," Whitney Houston's "Saving All My Love for You" and on countless movie soundtracks such as Taxi Driver, The Jerk, Three Days of the Condor, Heaven Can Wait, Sea of Love, Who Framed Roger Rabbit?, Toy Story 2, Monsters Inc., Conquest of the Planet of the Apes, Uptown Saturday Night, Stir Crazy, Hanky Panky, The Sure Thing, Soul Man and Shakes the Clown. His television composing and conducting credits include the themes for Family Ties and Starsky & Hutch, background scores for Baretta, Cannon, Barnaby Jones, Streets Of San Francisco, numerous others. He served as Musical Director for the Academy Awards, the Emmy Awards (9 times), the People's Choice Awards, Comic Relief, the Carol Burnett Show, the Pat Sajak Show, Joni Mitchell, George Harrison, Olivia Newton-John, and the GRP All-Star Big Band, among others—and composed the score for the recent HBO documentary The Bronx, U.S.A. He teaches Master Classes in Woodwinds, Arranging & Film Composing, and is currently on the faculty of the New York University Summer Jazz program.