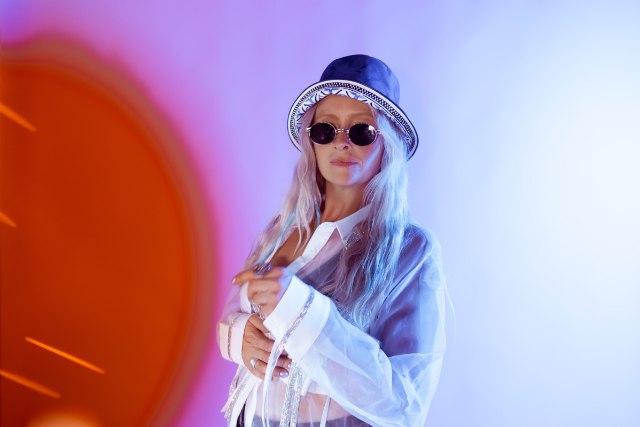 Maddy O'Neal

Dirty Funky Bass Music but make it pretty.

The vibe and soul of the Maddy O'Neal project combines soundscapes from all across the spectrum of genres…Rich in texture and atmosphere, her roots in funk and soul shine through in a bed of low end frequencies making for a unique environment for future bass and synth design to tie it all together. Hailing from Denver, Colorado you can hear the direct electro soul inspiration sprinkled in her productions but she has managed to carve out her own unique lane within the bass community. As a self taught producer and DJ, with a wildly creative upbringing, Maddy's expression was formed by way of soulful melodic overtones, driven basslines, and glitched out hip hop grooves. Maddy's live performances consist of original compositions, drum pads and an interwoven storyline ranging from down low grimey bangers to shimmery mid tempo vocal bass tracks and head nod disco. Her momentum is unstoppable as she has been touring the country for the last 5 years playing 90+ shows a year spreading her infectious energy from stage to stage.

With hits like "Zest Please"; a collaboration with the iconic Clozee that amassed over 2 million spotify plays in just one year, 4 EPs, a massive sophomore LP "Ricochet" in 2022 followed by 2 volumes of remix albums, Maddy's repertoire is ever expanding leaving fan bases across the world wanting more.

Maddy O'Neal has played Coachella, Lollapalooza, Lost Lands, Electric Forest, Envision, Summer Camp, North Coast, Red Rocks (x3) and many many more. Her touring resume is long and accomplished by supporting such artists as Clozee, Pretty Lights, Griz, Big Gigantic, Liquid Stranger, The Floozies, Opiuo, Wreckno, STS9, Manic Focus, and more!

Upcoming notable summer festival performances include highlights such as Bonnaroo, Cascade, SSBD, Sonic Bloom and more.

Kaipora

KAIPORA, Brazilian folklore's Protector of The Forest, consists of two guys: Ronnie Holguin @rwnjmz (born in Phillipines, raised in San Diego) and Kevin Rodriguez @krawd_livez (born and raised in San Diego). This unique livetronica duo met in San Diego, California and cultivated their sound in the hills of Santa Clarita. The two have been traveling up and down the West Coast in their RV selling handmade clothes by day and playing shows in the forest by night.

You want womps? They got it.

You want delicate builds followed by disgusting bass drops? They got it.

You want vibers all the way through? They got it.

Together they take audiences on an auditory excursion into the space jungle by providing a unique show full of love, laughter, and dancing. This live duo bends and mashes genres, wow-ing audiences with their new yet familiar electronic sound.