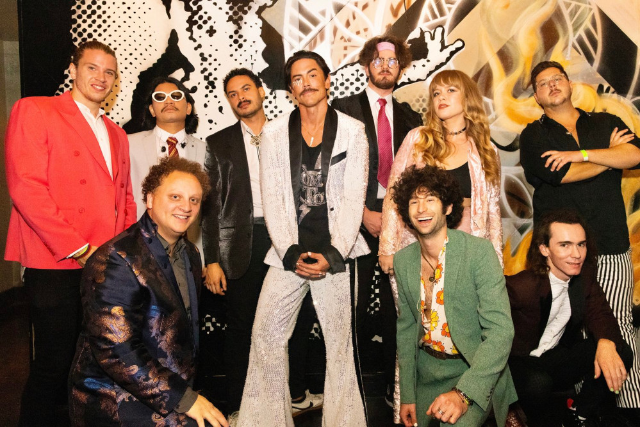 Tom Sandoval & The Most Extras

Lead singer Tom Sandoval has been a staple cast member of Vanderpump Rules since the show's first season. He has since graduated from bartender at SUR to part-owner of TomTom, which he owns and operates with Ken Todd, Lisa Vanderpump, and Tom Schwartz. Sandoval has also ventured into the beauty industry with the men's cosmetic company Stryx as well as the world of acting. Tom and Tom's newest venture, 'Schwartz & Sany's' is open in the Franklin Village neighborhood of Los Angeles.

Tom and Jason were having a couple drinks one night when they joked about starting a cover band. Several months later, TS & ME were having their first practice and the rest is history! Jason has been drumming since the ripe old age of 8. He's been in several bands through the years, including POBJFKHS Battle of the Bands winner '06-'08, 'The Adventures Of…'

Colin Deas is a multi-instrumentalist, musical director, and music educator based in Los Angeles. He started playing piano at age 5, expanding since then to saxophone, flute, guitar, bass, drums, and traditional Irish instruments (tin whistle, bodhrán). Colin has performed and recorded with dozens of different musical groups in myriad styles and settings as a freelance musician and served as musical director of Kid City, a nonprofit after school program in downtown LA, since 2017. In 2020, Colin released his first work as an artist as part of the video game music remix group Colin and Steve, reimagining classic video game themes in a unique lofi hip hop style.Maddi is a singer, songwriter, rock n' roller, and multi instrumentalist born and raised in Los Angeles, California. She has made a career singing in numerous projects, bands, and choirs, and can be seen on NBC's, The Voice.

Her solo music is inspired by folk and rock music of the 70's, taking inspiration from singers like Joni Mitchell and Janis Joplin. She currently sings in three different bands as a lead singer- but is truly her MOST extra self while performing with Tom Sandoval and the Most Extras!

Kevin is the lead guitarist of Tom Sandoval and The Most Extras. Started his music journey at the young age of 11 years old, and he's now a holder of Associate degree in Guitar Performance and Audio Engineering from Musician's Institute of Los Angeles. Born and raised in Jakarta, he grew up playing music in high school band and church. There, he developed as a music jack of all trades because not only he's good with different music instruments, he's also well-skilled in audio engineering, producing, and rig building. When he's not with his guitar, he loves to binge-watch Marvel series and he makes a killer cup of manual brew coffee.


Randon Davitt is a bassist, vocalist, and multi-instrumentalist based out of Los Angeles, CA. He has played with Chase Walker Band, Anna Duboc, Mei, Ethan Tasch, Tom Sandoval and the Most Extras, and many more. Beyond bass, Randon is a composer and plays trad Irish music.

Macrae Eckelberry, currently enrolled in the California State University, Northridge music program, is a versatile trumpet player currently pursuing his bachelor's in music performance. Despite being primarily involved in classical performance, he is able to perform a variety of styles including jazz, funk, latin, pop, and rock.

Originally from Long Island, New York and currently living in The Berkshires, Aaron is a singer-songwriter, recording artist, sound designer, and audio engineer. For nearly a decade, he lived in Los Angeles crafting his songwriting and working as a sound engineer/sound designer at recording studios. His solo project is inspired by music icons from past decades projecting a familiar, but new sound, while bringing back the lyrical tellings of the classic American singer-songwriter. Like Jason, he is also a member of the POBJFK Battle of the Bands winner '06-'08, "The Adventures Of...".