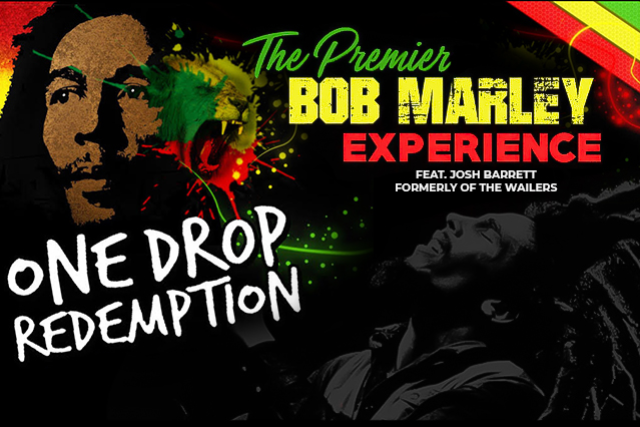 One Drop Redemption Featuring Josh Barrett formerly of The Wailers

Joshua David Barrett is a two-time Grammy Nominated recording artist, and the former lead singer of the Wailers of Bob Marley fame. Josh Barrett left the Wailers in 2021 to pursue a solo career Josh has been touring with One Drop Redemption for much of 2022. He will be performing songs that he co wrote and performed on the latest album, Wailers' "One World"

One Drop Redemption is the Premiere 'Bob Marley & The Wailers Tribute'. One Drop Redemption's Bob Marley Tribute Show will give you the impression that it's 1979, and you're in the audience listening to a Classic Performance by the 'Greatest Reggae Band of All Times'. You'll be singing and swaying to the 'riddums of the One Drop'. A truly a memorable
performance for you and One Drop Redemption was voted the #1 Bob Marley & the Wailers Tribute band by Gigmasters.com, one the world's largest online booking service. 'Feel it in the One Drop. That is where you'll find you Redemption!

Rafa Ponde and the Brazilian Reggae Experience

Rafael "Rafa" Pondé is a brazilian visionary artist.His explosive performances feature a hybrid of rhythms, ranging from different styles of global music that have an interface with Brazilian music. Originally from Salvador, in the state of Bahia, Brazil, he also promotes social justice and fights for human rights with his songs and speeches. Rafael started his career in 1996 as a guitar player, songwriter and producer in the band Diamba in his hometown. With this band Rafael opened shows in Brazil for acts like: O Rappa, Jota Quest, Men at Work, Steel Pulse, Gregory Issacs, The Wailers, Culture, among other important bands During the pandemic, Rafael started releasing a series of singles, one of them has been the song "Cartagena" feat Melogia that upon its release on July, got placed in three Spotify editorial playlists and has been widely praised around the world. Also during the Pandemic, Rafael emerged himself in a Holistic therapy.This dive led to a spiritual transformation that saw him getting in his car and driving across the United States from Washington DC to San Diego in 2022, where he lived for 8 months in his mini van, while settling in the city. Fortunately his first show at "Winstons" in OB was sold out and he was able to establish himself as one of the greatest Brazilian artists in the city.