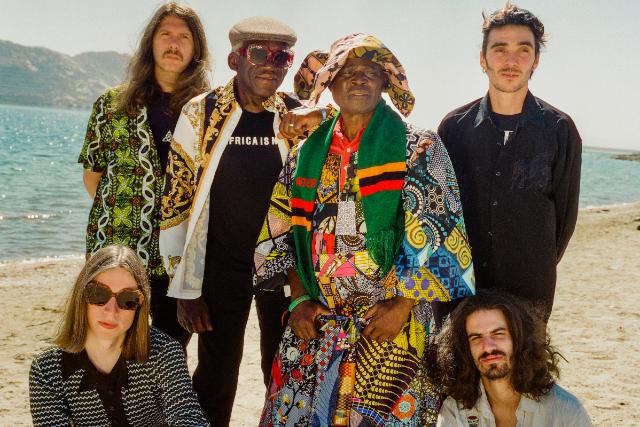 Sonny & the Sunsets

Sonny & the Sunsets are a beautiful West Coast thing. Birthed from the sand, the surf, and twilight campfires down in Ocean Beach, Sonny & the Sunsets' busted beach-pop songs spark recollections of doo wop's otherworldly despair, a dose of goofball humor from the Michael Hurley school, and positive possibilities exuded by Jonathan Richman. Helmed by the singer / songwriter, playwright, author & onetime troubadour Sonny Smith, The Sunsets have featured a revolving door lineup that have included Shayde Sartin, Ryan Browne, Kelley Stoltz and Tahlia Harbour. Adopting a range of sounds Smith's sardonic, laid-back style is interwoven throughout his compelling songwriting and vocals.

Al Lover's World Party

Los Angeles-based experimental producer Al Lover, a staple of the global psychedelic scene, has spent nearly a decade fine-tuning a broken, abstracted form of electronica that pools together a tapestry of trip-hop, synthesized krautrock, dub and dark ambient. Utilizing an arsenal of samples, drum machine, analogue synths and live instrumentation, Lover's is a kaleidoscopic sound that's J-Dilla, DJ Shadow, DJ Muggs and Lee Scratch Perry by way of Brian Eno, Kraftwerk and Cluster. Central to Lover's pursuit is a desire to explore the fringes of psychedelic music and the common threads that run through its far-reaching styles, drawing elements from the past and connecting them to the future.

Through the years he has released a number of studio albums, toured the US and Europe constantly, remixed the likes of Osees and Night Beats, been resident DJ for the Levitation and Desert Daze festivals and collaborated with the likes of Goat, Anton Newcombe, Peaking Lights, The KVB, White Fence and Cairo Liberation Front. Now, Lover returns with his latest studio album, 'Cosmic Joke', on Fuzz Club Records – a series of synthesized philosophical meditations on modern life, in all its tragicomic absurdity.