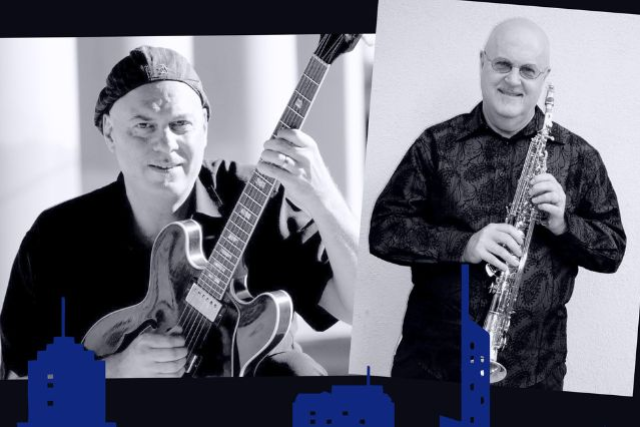 The Music of Steely Dan featuring Drew Zingg & Tom Scott

TRIBUTE BAND to The Music of Steely Dan, Based out of San Diego, California USA. Past Live performances have included Special Guests and notable Steely Dan musicians, including DREW ZINGG on Guitar (Jan 2023), ROBBEN FORD on Guitar (Sept 2022), TOM SCOTT on Saxophone (Jan 2023, Sept 2022 and Jan 2020), KEITH CARLOCK on Drums (Jan 2023 and Sept 2022), and BERNARD PURDIE on Drums (Nov 2019).

Drew Zingg was lead guitarist and musical director of Steely Dan for their reunion tour in 1993, continuing in that capacity through 1995. During this period he toured with the band throughout the United States, performing at such venues as Madison Square Garden in New York, the Greek Theater in Los Angeles and the Shoreline Amphitheater in San Francisco, and other stadiums across the country. A sampling of these appearances were recorded and released as the Giant Records release, "Steely Dan; Alive in America." His tenure with the band also included a tour throughout Japan in 1994. Drew's guitar work is featured on the Donald Fagen Box Set, "The Nightfly Trilogy." Preceeding his work with Steely Dan, Mr. Zingg worked with Donald Fagen as lead guitarist and music director for Mr. Fagen's "New York Rock and Soul Revue", an aggregation of artists that included Walter Becker, Michael McDonald, Boz Scaggs, Phoebe Snow, and Patti Austen. "The New York Rock and Soul Revue" toured extensively throughout the States and culminated in the Giant Records release, "Live at the Beacon." Drew has been touring for the last several years with Boz Scaggs and Michael McDonald throughout the U.S., Canada, Australia, New Zealand and the Far East. His work with Mr. Scaggs is prominently featured on the "Greatest Hits Live" CD and DVD. He has toured and recorded throughout the last 3 decades with David Sanborn, Marcus Miller, Shawn Colvin, Rickie Lee Jones, Gladys Knight. Drew's work with Michael McDonald was prominently featured in the film "Leaving Las Vegas" starring Nicholas Cage and Elizabeth Shue. Drew delivers a blistering solo on a revamping of the Doobie Brother's "Minute By Minute", featured on Michael McDonald's greatest hits package. Prior to his move to San Francisco a few years ago, Drew was very busy in the New York studio scene recording commercial jingles, movie soundtracks and TV. He did extensive work on Broadway, as lead guitarist in the shows Jersey Boys, Spamalot, Hairspray, Mamma Mia!", and "Smokey Joe's Café", the Music of Lieber and Stoller whose cast album features Drew's work, and won a Grammy Award for best Broadway soundtrack. Dan Aquilante, senior music editor of the New York Post wrote the following in his review of a Steely Dan performance. "Topping the list of backup players was Drew Zingg, one of the most outstanding jazz/pop guitarists I've ever heard. Whenever he had the lead, the moment soared. He has a knack for bringing a song to climax. His work was often rewarded with applause during a tune, as if Madison Square Garden was a snug jazz club". Robert Goldberg of the Wall Street Journal has remarked on Drew's "glistening, dramatic solos" and puts him "in the ranks of Vernon Reid, Larry Carlton a nd Danny Gatton". Guitar Magazine listed him as one the 12 "best guitarists you've never heard of." In Guitar Player magazine, Mike Keneally noted of a Drew Zingg performance, that he "..burned so resolutely, the stars were singed." Jon Pareles of The New York Times describes Mr. Zingg as "superb"… …and Pat Metheny has said that Drew "..is the best guitar player I have seen in years".

Tom Scott is a renowned composer, arranger, producer, music director, saxophonist and educator. His 33 solo recordings have earned him 13 Grammy nominations and 3 Grammy awards. In 2013 he produced a CD for young ukulele master Brittni Paiva which won a Hawaiian Grammy for 'Ukulele Album of the Year', and in 2017 received his first Emmy Award nomination for Musical Direction of the Tony Bennett 90th Birthday TV Special on NBC. tomedit09.jpg Tom's career as a guest artist spans more than 2000 recordings—by such diverse artists as Barbra Streisand, Quincy Jones, Thelonious Monk, the Blues Brothers, Frank Sinatra, Aretha Franklin and Aerosmith. His numerous contributions as a player and arranger include Joni Mitchell's Court and Spark and Miles of Aisles, Steely Dan's Aja and Gaucho; hit singles like Carole King's "Jazzman," Paul McCartney's "Listen to What the Man Said," Rod Stewart's "Do You Think I'm Sexy," Blondie's "Rapture,' Toto's "Rosanna," Whitney Houston's "Saving All My Love for You" and on countless movie soundtracks such as Taxi Driver, The Jerk, Three Days of the Condor, Heaven Can Wait, Sea of Love, Who Framed Roger Rabbit?, Toy Story 2, Monsters Inc. and the latest release of A Star Is Born. Other achievements include composing film scores, among them Conquest of the Planet of the Apes, Uptown Saturday Night, Stir Crazy, Hanky Panky, The Sure Thing, Soul Man and Shakes the Clown. His television composing and conducting credits include the themes for Family Ties and Starsky & Hutch, background scores for Baretta, Cannon, Barnaby Jones, Streets Of San Francisco, numerous T.V. Movies and Specials. He has served as Musical Director for the Academy Awards, the Emmy Awards (9 times), the People's Choice Awards, Comic Relief, the Carol Burnett Show, the Pat Sajak Show, Joni Mitchell, George Harrison, Olivia Newton-John, and the GRP All-Star Big Band, among others—and composed the score for the recent HBO documentary The Bronx, U.S.A. He teaches Master Classes in Woodwinds, Arranging & Film Composing, and is currently on the faculty of the New York University Summer Jazz program.