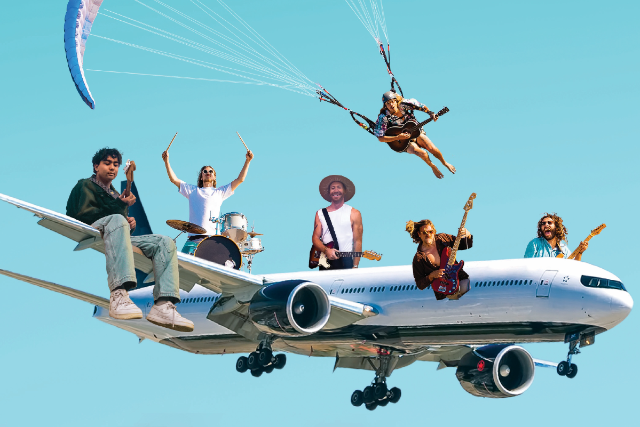 Half Hour Late

"Half Hour Late is the kind of band you want to hang with. San Diego-based music sensation who was recently nominated for "Best Pop Album 2022" at the San Diego Music Awards, has just released their latest single, "Gettin' By." It's a musical and visual delight that is sure to please fans and newcomers alike.


"Gettin' By" perfectly captures the band's signature sound, featuring catchy rhythms and memorable musical and lyrical hooks that have made them a fan favorite. The band's latest offering truly demonstrates their unwavering commitment to delivering fun music that resonates with their audience. As the band continues to work on their next album, "Gettin' By" is a great reminder of why Half Hour Late is one of the most exciting bands on the music scene today."

Joe Marson

Joe Marson and the Satisfied Mind is a unique duo consisting of singer/guitarist Joe Marson and synth bass/drummer/singer/Mind Satisfier Dan Nichols.

Joe Marson is a wandering soul songwriter with a calling to make blues and Americana tinged rock n' roll music. He refers to it as Electric Soul Magic and wraps up his life experience of extreme highs and devastating lows into authentic, yet catchy songs.

Joe has toured throughout the US, Europe, and Asia, playing shows, colleges, house shows, and festivals and has opened for Tedeschi Trucks Band and Marcy Playground. He has had songs placed in movies such as Marvel's Deadpool as well in 30+ TV shows/movies on Netflix, FX, ABC, and more. Most recently, his song "My Love is A Cannibal" is featured in the #1 show on Netflix, Ginny and Georgia.


After 14 years of being a singer and a songwriter, Joe mysteriously lost his voice for 2 years. Naturally this was a very heavy time—but as he began to heal his soul, his voice miraculously came back and he fell in love with writing music all over again.