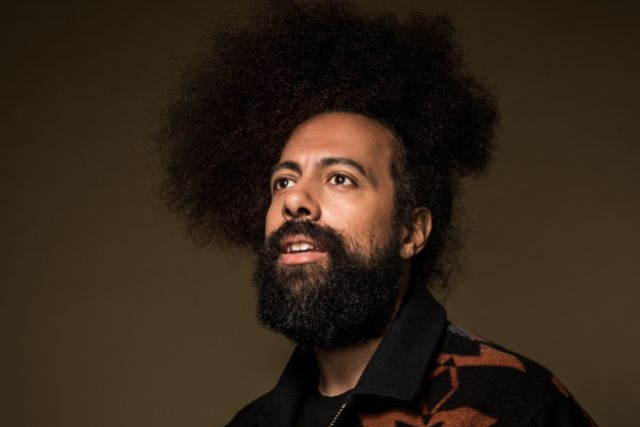 Reggie Watts

Reggie Watts is an internationally renowned Musician/Comedian/Writer/Actor who currently stars as the bandleader on CBS's The Late Late Show with James Corden. Using his formidable voice, looping pedals, and his vast imagination, Watts blends and blurs the lines between music and comedy, wowing audiences with performances that are 100% improvised.

Watts' first Netflix special Spatial released to massive critical acclaim, with the New York Times calling it "a giddy rush of escapist nonsense" and dubbing Watts "the most influential absurdist in comedy today." The A.V. Club described Spatial as "signature Watts, meaning it's alternately exhilarating, silly, exhausting and transcendent," and Exclaim! Magazine called his performance "engaging, absurd, thoughtful and, most importantly, wholly unpredictable."

As a solo performer, Watts brand of musical/comedy fusion has led to sold out headlining tours in the U.S. and Europe, including festivals such as Bonnaroo, SXSW, Bumbershoot, Just For Laughs, Pemberton and more. Last year, Watts released his own content app called,WattsApp, a techno-savvy look into his life, work, and techno junk drawer. WattsApp has all original content including a show called, Droneversations where he interviews guests while it's filmed by drones along with other fun content. In 2010, Watts released his debut comedy special, Why Shit So Crazy? on Comedy Central Records, and is now available to stream on Netflix. Why Shit So Crazy?featured Watts in live performances at New York venues such as Galapagos, The Bellhouse, and Le Poisson Rouge, bookended with brief sketches and music videos. Later that year, at the invitation of Jack White, Watts recorded Reggie Watts: Live at Third Man Records which was released in limited edition vinyl.

In 2012, Watts recorded his second comedy special, Reggie Watts: A Live At Central Park, which was released by Comedy Central. Watts was born in Germany, raised in Montana, and currently resides in Los Angeles

Jackie Mendoza

Born and raised in the border city of Chula Vista, California, producer and musician Jackie Mendoza has found inspiration from her motherland of Tijuana, Mexico to create intimate and ecstatic electronic pop with Latin-driven beats and vibrant soundscapes. Jumping between English and Spanish, she creates melodies that captivate the listener's imagination with story-telling through sound design and narrative songwriting. Jackie uses voice and electric ukulele on a blend of electronic beats to bring to life a cacophony of sonic textures.