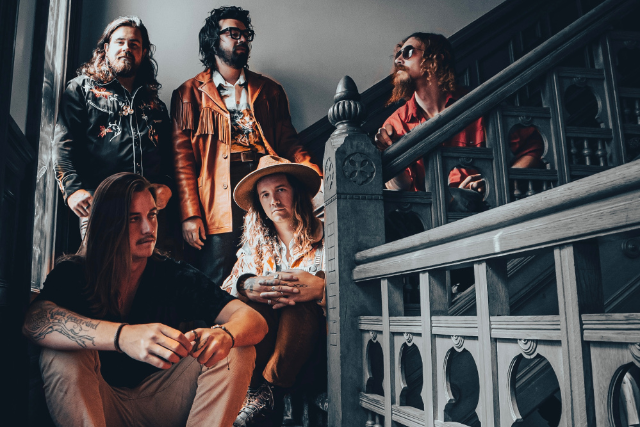 Daring Greatly

Daring Greatly—to 'dare greatly'—a band whose sound was born in the sunny eastern foothills of Canada's Rocky Mountains, combines harmony-rich rock n' roll with U.S Folk, Americana traditions from the 60's and 70's.

Formed in the sunny eastern foothills of Canada's Rocky Mountains, Daring Greatly combines their harmony-rich, rock n' roll with U.S Folk, Americana traditions from the '60s and '70s. They are best known for their mesmerizing family (blood) harmonies provided by two brothers, Patrick and Liam Croome. In 2015, the band leaped forward with best friend and drummer Brayden Tario from Calgary, Alberta, and moved to Southern California. Since then, the band paved their path with hours of experience performing over 1,000 shows across the United States, Canada, and Mexico. They have been steadily growing a stunning catalog of soul-full original songs with two full-length albums, 'Cornerstones' (2016) and 'Works of Art' (2017), and their latest, 6-song EP 'Give Myself to the World' (2021). Their albums are filled with honest lyrics encompassed by deep and introspective messages about courage, vulnerability, and personal freedom, all of which are at the forefront of the bands' core values to lead a life that serves a purpose greater than ones-self.

Ash Easton

Ash Easton is a radiant product of suburban San Marcos, California. At a young age she was exposed to the kind of music that would mold her as a human and a musician. This same music would also inspire her to attempt to stand out among her nine competitive siblings.

Artists such as Aretha Franklin, Stevie Ray Vaughan, Whitney Houston, the Temptations, and Linda Ronstadt distinctly shaped her voice and singing style. Her formative years were spent taking vocal lessons and singing in a choir, which led her and her band of vocalists to Hungary, Germany, and Russia to showcase their burgeoning talent. Along with this invaluable traveling and singing experience, Ash Easton pursued three years of classical music during that time in an effort to perfect her range of talent.

She began her solo musical journey singing in churches and then started writing her own music, which she took to bars and restaurants to perform. She has been playing all over San Diego for the last five years, sharing her original songs with enamored audiences and lucky bystanders alike. Not content to simply play astounding music, over the years ASH has established a resolute nature that compliments her music in a beautifully mighty way.

Ash Easton has been influenced by artists such as Whitney Houston, Brandi Carlile, the Black Keys, and Jack White. She has shared the stage with notable artists such as POD, Shane Hall, Gavin DeGraw, Anderson East, and Malachi Henry and the Lights. This amalgam of influential singers and songwriters yielded a style of music which could be defined as Americana Soul. Her voice pierces hearts and gratifies ears, all while challenging the modern formulaic female sound. HLLNDR's art is forthright, raw, and lacks any trace of bubble gum, boy toys, or fairy tales.

The debut album, "From the Ashes," is the aftermath of pushing head-on into her own brush fires. The same fires that scorch everything around it also refine her talent and persistence — a talent that threatens those with less tenacity and a combustible persistence that cannot be ignored. Emerging from the ashes, Ash Easton is ready to flick matches all over today's music scene.

ASH EASTON's debut album under the name HLLNDR dropped in January and can be found on all listening platforms.

Shane Hall

SHANE HALL is an award-winning singer/songwriter out of Oceanside, CA.

His unique & beautifully haunting style consisting of Blues/Soul/Americana has gained him a highly regarded musical reputation throughout the West & East coast, television appearances, three successful solo albums, a Pacific NW Tour, and a performance at KAABOO Del Mar Music Festival 2018.