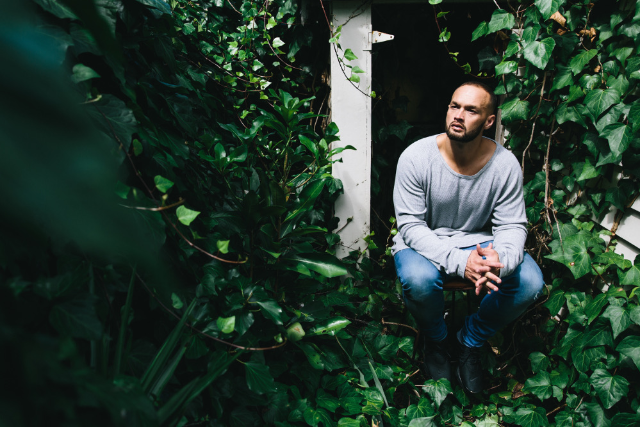 Sammy Johnson

Somewhere between the charisma of Frank Sinatra, the empathetic tone of Bob Marley, and the smooth and sultry vocal runs of Lauryn Hill lives the warm and kind voice of Sammy Johnson. An Australian native, Sammy Johnson embraces his Maori and Polynesian roots to create positive and uplifting music. Blending together island reggae, soul and jazz vibes with heartfelt lyrics, Sammy's sound is exhilarating and intoxicating.


Sammy Johnson has been waving the flag for the Pacific Island sound and has quickly become a leader of the scene alongside new school artists like J Boog and veterans like Katchafire. Sammy Johnson got his big break via Youtube after his video for "Don't Say Goodbye" became a viral sensation, racking up over 10,000,000 plays. Not too long after, a Hawaiian-based producer contacted Sammy and offered him a record deal with Island Empire Records, home to groups like Common Kings, Tenelle and Fiji.


With his music spreading like wildfire, Johnson said his move to California to pursue his career full-time has gone beyond what he could have ever imagined. Sammy Johnson released his debut album Prelude in 2013 and embarked on a discography that broke the Reggae charts in the US in 2016. Sammy capitalized on the success by embarking on a sold-out tour across the country with labelmates, Common Kings.


Sammy's newest album Cool & Easy was released on Jan 22, 2021 on tastemaker label Mensch House Records and is Johnson's first full reggae album. Produced by GRAMMY Winning producer J-Vibe, Cool & Easy is an authentic expression of how Reggae music has affected Johnson's music and life.


"Cool & Easy is so many things; it's the rekindling of my love for Reggae Music, its my first Reggae full album and it is a true authentic expression of how Reggae music has touched my life and blessed me with the opportunity to do what I love," says Johnson.

Sammy will hit the road this winter in honor of the new record. His "Back in the USA Tour" will start off in California and Hawaii and is aptly named after him spending most of quarantine in Australia. The upcoming tour dates are a celebratory look at the new album and the upward trajectory of Sammy's musical prowess and appeal as he brings his enlightening music and vocals to an audience of anticipatory fans.

Eli-Mac

li-Mac's story reads like a fairy tale, a musical journey which has turned into an impressive career that took flight with the successful release of her hit five-song EP, entitled Dubstop in 2014, produced by JP Kennedy of The Green and Leslie Ludiazo of Hot Rain. A Filipino native who moved with her family to Hawaii as a youngster, Camile (Eli-Mac spelled backwards) Velasco was a rebel who combined island music with R&B and hip-hop.

Eli-Mac's musical and fashion style comes from growing up in the '90s listening to Lauryn Hill, Salt N Pepa, TLC and Erykah Badu along with hip-hop icons Wu Tang Clan, Nas, Tupac Shakur and Mobb Deep. She shared her mom's love of '70s disco and '80s Madonna, while her father turned her on to '60s classic rock and jazz from The Eagles and The Doors to Billie Holiday. At the tender age of 18, Camile landed a spot on the hit TV show American Idol as a Top 10 finalist.

"I learned some hard lessons along the way, mostly what not to do," says Eli-Mac, who proudly wore her red, yellow and green Rasta wristband until the end to show her true colors. "I rarely look back on those times because there were so many growing pains. I'm thankful, though. It was my own boot camp. It gave me the confidence to do what I do today, which is ironic because that's why I was kicked off the show – my lack of confidence."

Eli-Mac continued on in the music industry, signing with several major and independent labels, such as Motown Records and indie hip-hop company Up Above Records.

She discovered her sound by combining her three favorite genres – roots reggae, hip-hop and R&B – creating the groundbreaking Dubstop with subsequent dub-wise, rootsy records like "Can't Get Enough," "Roots Girl" and the most recent, "Resume," all produced by her current partner Louie Castle of noted San Diego-based reggae band Tribal Seeds.

By rebranding herself as Eli-Mac in 2014, Camile has been able to step outside herself – and the limitations put on her by others – to emerge as a flamboyant, sensual performer, not an alter ego, as she insists, but a truer version of her real self.

"Eli-Mac is an extension of who I really am," she explains. "And that has allowed me the ultimate freedom to finally be myself without conforming to any of the stereotypes the industry imposes on women."

Songs like the slinky "Mr. Sensi," featuring Conkarah, represent Eli-Mac's unique urban island style and support for cannabis culture.

In 2008, Eli-Mac recorded a version of Bob Marley's "Guava Jelly," produced by his son Stephen Marley, at Tuff Gong Studios in Jamaica, which earned her the Hawaii Music Awards' Single of the Year. She has also opened for the likes of her idol Lauryn Hill, Sublime, Shaggy, Soja, J Boog and Common King, as well as appearances at the One Love Festival and Cali Roots.

Eli-Mac currently resides in San Diego, where she is writing and recording with producer Loues Castle on her third album, Roots Girl, in their home studio that has her pumped up and ready to hit the road. This time, she's doing it her way.

As she sings in her most recent track, Eli-Mac's "Resume" speaks for itself.

"I am proud to incorporate my upbringing in Hawaii into my music," she says. "That culture remains important to me."

Dayvid Thomas

Dayvid Thomas (DT) is an R&B artist who was born and raised in Southern California. He grew up listening to artists such as Usher, D'angelo, Lauren Hill and Stevie Wonder. His music often emulates the soul and passion of those artists that have inspired him. Dayvid began singing harmonies at a young age with his father and brother. A self taught musician, he has mastered both the piano and guitar as well as being an accomplished songwriter.

DT has amassed an incredible social media following on multiple platforms but admits that singing to a live audience has always been his passion. His global fan base spans from Hollywood to countries like New Zealand and Australia. He has shared the stage with the likes of Actor/Comedian Bill Bellamy, R&B Singer Bobby Valentino, the late great Tina Marie, Fabolous, Lil' Wayne.