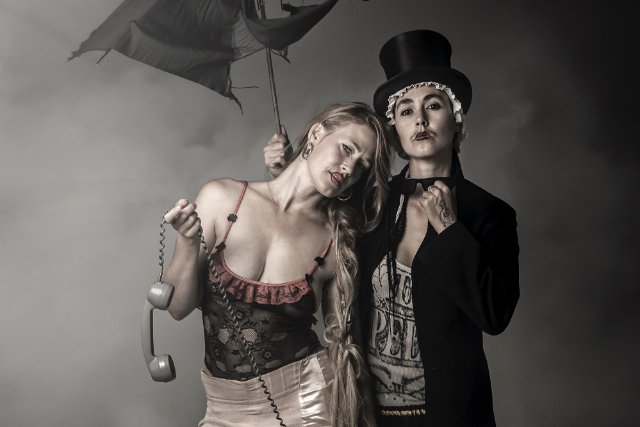 CocoRosie

In the nearly five years since CocoRosie released their last album, sisters Bianca and Sierra Casady have been far from idle. In addition to composing for theater pieces, collaborating with legendary theater director Robert Wilson, performing with the Kronos Quartet, and, more recently, popping up on Chance the Rapper's The Big Day, the duo have been heavily engaged in the messy business of life. Created in fits and starts over the course of four years, amidst the backdrop of death, divorce, mental illness, falling in love, and copious amounts of healing, CocoRosie's 7th album — the aptly titled Put The Shine On — is a study in extremes, balancing some of the most fresh and adroit pop songs the band has ever crafted, while simultaneously exploring the most extreme states of human feeling and being — the result being an album that is both pristine and, at times, harrowing.

"I don't even know where to begin," says Bianca, of the album. "We started working on this record nearly four years ago. We were on our brother's ranch in Hawaii, which is totally off the grid. It was a really beautiful place, but at the same time kind of brutal. We were making music, but also dealing with a lot of complicated stuff within our family, mental illness and alcoholism, which eventually started to weave in and out of the record thematically. There is such a taboo about mental illness, it felt important to talk about that in a really honest way. These stories about our family, about life and death and illness, were intertwined with a Wu-Tang-like way of mythologizing things. The whole record, and how and where and why it got made, became a wild journey of its own."

The twelve tracks on Put The Shine On illustrate why, nearly two decades into their career, CocoRosie remain a truly singular band. Combining elements of sparkly electro-pop ("Smash My Head" "Burning Down the House"), tripped-out folk music ("Where Did All The Soldiers Go"), hip hop sing-speak-rap poetry ("Did Me Wrong" "Mercy" "Slow Down Sun Down"), warbly 70s funk ("Lamb and the Wolf"), not to mention the occasional animal sound — they remain resolutely and commandingly their own distinct creation. While Shine may very well be the most straightforward statement of their career, the same left-of-center sensibilities that made their earlier records so captivating (and often, polarizing) remain very much at play. Lead single "Smash My Head" is the album's beating heart writ large—a propulsive missive that blends warped electronica with organic percussion, the sounds pushing up against lyrics that echo the album's core concerns of brokenness and healing: "Smash my heart into bits, I am broken / Twist my soul inside out, I'm still breathing / Run across my burning heart, you can't break me."

Though the record was recorded at a variety of locations — including Hawaii and a several sessions at Sonic Ranch studios, just outside the border of Mexico near El Paso, Texas — much of Shine was put together in San Francisco, which became a working hub for a variety of reasons. "Our mother died in the middle of the process, so obviously that's another big theme here," explains Bianca. "We recorded in a studio in San Francisco, which is for some reason where our mother decided she wanted to die. And she really encouraged us to stay busy with our art. She wanted the feeling of movement, the bustle of us coming and going and having exciting news. So nearly right up until she passed, we were still in the studio working."

The lyrics of "Ruby Red" reflect both the beauty and the intensity of experiencing someone's passing, proving the record's emotional centerpiece: "'Are you ready to walk me home? She said / 'Tomorrow's never promised and always be honest'/ Her breath is now our song." According to Casady, the experience was both wrenching and ultimately cathartic for the duo. "Her death was the most incredible thing we ever witnessed. For us, it was undoubtedly intense but also idyllic in the sense that it was an empowered experience, at home, non-medicalized," recalls Bianca. "She was very conscious and we were there, extremely close to her. And she was incredibly brave. That experience totally changed everything. She sang on the record — on the chorus of "Ruby Red" — 11 days before she died. She came to the studio with us and you could tell when she sang, it was with the complete awareness that this is the only chance she would have to do it. She gave it everything, but not in a sad way, but with this very generous consciousness that this was it, she put her whole heart into it. We were so lucky to be able to honor that. She gave us so much of who we are as artists, she is a great artist herself"

Put The Shine On is a record that luxuriates in extremes, reflecting the pain and confusion of mental illness ("They're trying to Britney Spears me") and the anguish of unpacking trauma ("Held the lamb in my hand, beheld its eyes / Shocked wide with death" Bianca sings on "Aloha Friday"), while also gleefully celebrating the possibility of newness, of wildness, and the ever-present potential for transformation. Nearly two decades deep into a career marked by experimentation and bucking convention, the duo has made what is arguably the most well-considered, emotionally complicated, and sonically adventurous record of their career.

"The last few years have been the quietest period in terms of performance or releasing material since our inception," explains Bianca. "But we have been extremely active as artists and collaborators, so all of that work flows back into what we make as CocoRosie. I feel like we've been somehow gaining the ability to make more accessible music year by year, even if other people don't always hear it that way. We've changed a lot. It took many years for us to be seen as adults, even though we were in our early twenties when we started. We were infantilized and put into this weird box of being seen as little girls playing dress up, which was tiresome. Thankfully, a lot has happened in the last ten years in terms of visibility and awareness around female artists. It feels good to be a part of that."