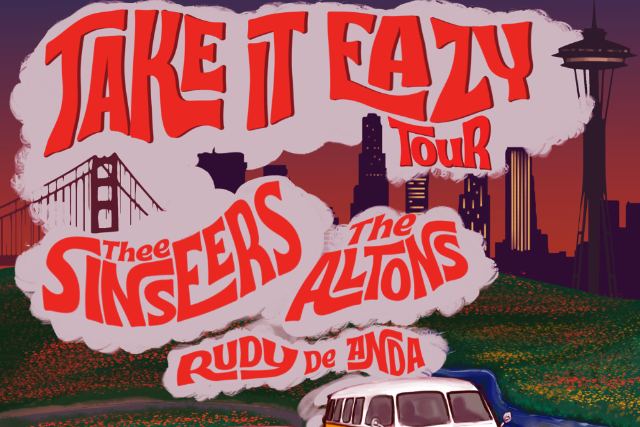 The Altons

How would you characterize the sound of Southeast LA?
The Altons, natives of the region, combine dust kicked up from backyard parties with evening Art Laboe listening sessions, evoking a sound that veers far from the shadows.

The Altons curate a ballad of retro-indie-soul that has captivated local audiences for several years, quickly driving them to become a staple of the scene.

Their distinct sound caught the attention of Daptone Records Co-founder Gabe Roth, who was in the process of starting Penrose Records. Penrose became a subsidiary label to Daptone to highlight the emerging soul-scene growing in Southern California, where The Altons fit perfectly. Their Penrose debut "When You Go (That's When You'll Know)" was KCRW's Today's Top Tune, and their most recent single "Tangled Up In You" has been featured on "Soulection Radio."

Thee Sinseers

Straight out of East L.A. and led by multi-instrumentalist, producer and singer-songwriter Joseph Quiñones, Thee Sinseers feature a full brass section led by Eric Johnson (Tenor sax), Steve Surman (Bari sax) and José Luis Jimenez (trombone). The line up also includes sweet harmonies and a tight rhythm section consisting of Christopher Manjarrez (Bass), Francisco Flores (Guitar), Bryan Ponce (Guitar/vox), Luis Carpio (Drums/vox) and Adriana Flores (Vox). Together they are a part of a community of musicians who are tying together both the nostalgic and classic with the innovative and new to bring a unique sounds to soul music.
Thee Sinseers are part of the great Colemine Records family lead by Terry Cole, who released their first singles for the songs "It Was Only A Dream" and "I Don't Mind" in 2019, with a full length expected for release in 2022. The band's song "Seems Like" was also included in the inaugural compilation EP titled Presenting Penrose Records, from the Penrose imprint of the renowned, Brooklyn-based label Daptone.

Rudy De Anda


Born in the 1980's in Mexico and brought to California, Rudy de Anda's debut solo album, "Tender Epoch" (2020) is a love letter to the long historical lineage of rock 'n' roll music interpreted through his multicultural lens. "I write my own history; I don't want to be defined by defined by any one scene," De Anda proclaims about his personal journey, and his ability to adapt and flit between cities and cultures is part of the reason L.A. Record has called his sound "deliberately difficult to categorize, familiar but novel at the same time."

De Anda's origin story has more locations than most and the staging is a perilous task: his childhood in Compton, his move to Long Beach, then a few months in Mexico, then back to the States.As an adult, he had a solo trip to Chile to see El Guincho's show, a trip that meant so much to him that he realized the profound impact Latin music has on his adult life.

Amidst incessant moves, one constant in De Anda's history was the omnipresent soundtrack in his Hispanic home: from rock and bossa nova, to crooners, ballads and even traditional Mexican music. These sounds of his roots and the angst of the punk bands he embraced as a teenager would soon intertwine harmoniously.

The most influential figure in De Anda's storied upbringing was without a doubt Ikey Owens of The Mars Volta and Jack White's band. The late, great Grammy-winning producer struck a friendship with De Anda early on, when he was a teenager to whom Owens would give vinyls and tickets to shows. Owens took a young De Anda under his wing and invited him into his world and into his studio. This is where De Anda began to piece together a solo record, on his mentor's 8-track, which for the first time felt more personal in execution, and tackled the intimacy and romanticism of generations of the artist's past, while still employing the scrappy punk rock attitude he has always placed first and foremost in his music and life's work.

Since 2005, De Anda has played thousands of concerts in various musical projects, but with "Tender Epoch," which was the first album he recorded under his own name, he clearly found his own voice, with a lot of stories to highlight. This is exquisitely crafted pop, with universal messages of heartbreak and loss that are still appropriate if played at full speed on the freeway in the coastal sun. Carving his own path through a wild ride that just won't seem to let up, De Anda refuses to get comfortable or comfortable, and instead has created a classic album that will undoubtedly set a standard for songwriting in the future.