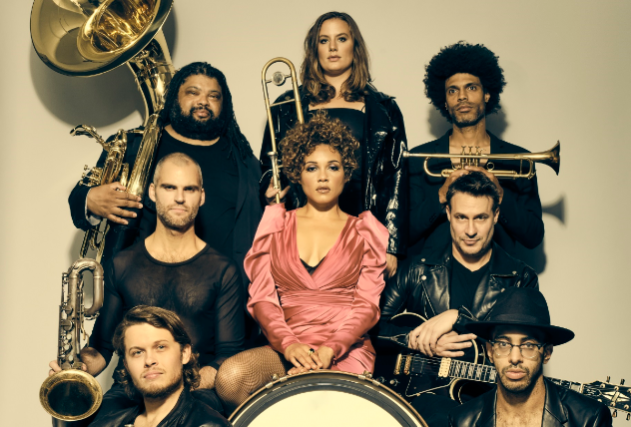 Brass Against

Brass Against is a collective group of musicians who share the goal of creating music to inspire social and personal change. The band curates songs from a variety of influences including Tool, Rage Against the Machine, Soundgarden, Black Sabbath, Run the Jewels as well as their own compositions in a heavy brass filled symphony.

Brass Against has toured extensively throughout the world playing headlining shows and festivals in the US and Europe (Boomtown, Pukkelpop, Download Madrid), Australia, New Zealand (Splore and Electric Avenue) and Indonesia (Java Jazz Festival).

The band has released three full length albums and most recently an EP of originals. They are currently in the studio and planning to release new originals at the end of the year.

Brass Against wants the music they perform to sound inspiring and resonate with people's emotions. They play music that's powerful and empowering. They're inspired, and they're ready for change—and they hope their music amplifies this energy in everyone who listens.

One Hot Planet

One Hot Planet is an up and coming group from Southern California composed of two saxophones and a drum set. The group combines a variety effects and musical backgrounds to create a unique sound that infects the crowd with dance and emotion. Their sound takes qualities from a variety of different music genres including Dance, EDM, Rock, Pop, and Metal and combines them into one form that is sure to captivate an audience which is unexpecting of a group of this instrumentation. Their shows demand the full attention of the audience as they express themselves through their instruments, literally giving them life as they force air through their horns to create captivating grooves and banging melodies that are sure to please. The group has a long way to go on their journey into the world of music, which is unique to such a young group, and as a result their music is ever changing around their exclusive base style.