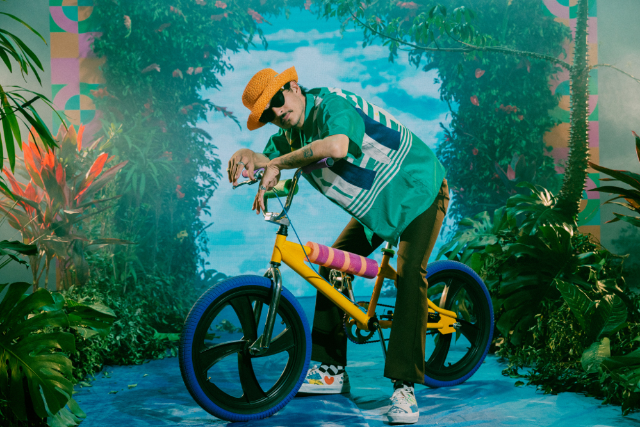 Caloncho

CALONCHO is an artist from the North state of Sonora and an adoptive son of Guadalajara where he has been living for most of his life and where his first musical incursions have generated reactions that have marked his young career. His first material was nominated for 2 Latin Grammy Awards as "Best New Artist" and "Best Alternative Music Album" with his EP called "Fruta" [Fruit], produced by Siddhartha, a great artist who was attracted to CALONCHO by his amazing musical sensitivity.

Oscar Castro, known as CALONCHO since childhood, has also received numerous positive reviews for his first EP, and 2 awards out of his 4 nominations for the Indi-O Music Awards (IMAS) that reward the best independent music in Mexico: the "Best Pop Album" and "Best Solo Album" awards. The EP "Fruta" was among the most-sold albums on iTunes in Mexico for 5 consecutive months, and the tracks "Palmar" and "Chupetazos" remained among the 50 most-virally-searched songs on Spotify.

"Fruta" was released in September 2013. "It sounds like everything I have been listening to and filtered during my upbringing, covering from Mexican folk songs, the beach, a little bit of the forest and the city, to learning situations, existence, longing and love of life," states CALONCHO, an artist who grew up surrounded by music. Even though initially a drum set was his first instrument of choice, he later showed a preference for the guitar which was the instrument of the first songs he wrote. "My dad would write songs for us as if making 'hard-boiled eggs', and I am sure that that was my poetical inspiration for creating situations, combined with my mother's impeccable vocabulary and verbal abilities."

That is how CALONCHO, starting at a very early age, began to manufacture songs and to mold them as if they were play dough, until he shaped "Fruta". This is an album where he used organic sounds and objects not considered to be musical instruments, such as water, fruit, seeds and lighters, among others. This record reflects a very positive and happy stage where he sings about love, depicting situations and experiences of his own life.

Bálsamo, his 2nd Full Length material was released in August 2017 with amazing success in charts, radio and sales. CALONCHO is touring Bálsamo all around México, South-america, Spain and the US.

After 2017 Caloncho has released much more music.

2018 - EP PA

2019 - Desde los Árboles EP

2021 - Malvadisco LP

2022 - Buen Pez (May 31st)

"Buen Pez" features amazing colaborations with Li Saumet (Bomba Estéreo), Little Jesus, Bobby Pulido, Charles Ans, Carlos Colosio.

Gaby Aparicio

Latin Soul, Good Vibes & Mucho Amor

Award winning singer/songwriter (most recently nominated for a San Diego Music Awards for Best World Music Album), Gaby Aparicio blends numerous cultural sounds together inspired from her coastal Uruguayan and Italian family roots. Honing her laid-back, sunny style in Orlando, FL, Aparicio headed to San Diego, CA in 2014. Since then, she has become a fixture in the live music scene, performing her signature fusion of Latin, world, pop, reggae, and soul with various configurations of her band, La Buena Onda, at iconic local venues and festivals such as Music Box, Adams Ave. Unplugged, and Chicano Park Day. Other notable performances include singing the national anthem for the NBA's Orlando Magic, showcases at Gibson and Sony Music Studios in New York City, and opening for Latin Grammy© winners Monsieur Periné. Though no stranger to impressive accolades (she is a two-time winner of Cari Cole's Signature Songwriting Circle Contest and 2018 winner of the West Coast International Song Contest), Aparicio's creative mission is quite modest: she hopes to inspire others by spreading positive vibrations and love.

Gaby released her latest world soul album, recorded by Grammy© winning producer, Alan Sanderson, of Pacific Beat Recording, in July of 2019. She was a featured Taylor Guitar player in the February 2020 Wood&Steel publication, as well as at the Taylor Guitar booth at the 2020 NAMM Show. She will also be featured as an official QSC Audio endorsed artist in their YouTube TouchMix Sessions in conjunction with the Ursa Polaris Sessions, later this year.

Be on the look out for her latest release, Corazon (9 Theory Remix), an electronic collaboration with 9 Theory, the solo music project of eclectic LA-based singer/songwriter, beat-maker, remixer and producer, Gabe Lehner. Follow 9 Theory on Spotify and get notified of his latest releases!