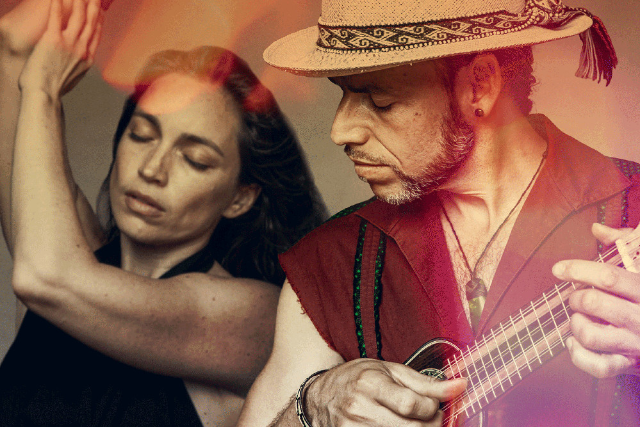 Porangui

Beauty Way Tour: A Transformative Music, Dance, and Healing Experience

Multicultural musician, healer, and educator Poranguí will return to San Diego, CA on Thursday, June 16th at Music Box. He and co-facilitator Ashley Klein will create an intentionally curated container to experience the healing power of music and authentic expression.
The Beauty Way Tour offers participants an evening of improvised world soul music, dance, and sound healing along with a unique opportunity to connect with themselves and their community, emerging transformed and more whole.
The four-hour journey of rhythm, sound, and movement, commences with an opening ceremony and opportunity for the audience to activate their voice and sing together. Poranguí's extended live music set will be complemented by Ashley's vocal guidance and live visual projections creating an unforgettable journey through the beauty of the earth and the tapestry of life. The event concludes with an integration experience as we return to our greater community with the medicine of the night.
The Beauty Way album and tour are inspired by Diné (Navajo) teachings from Poranguí & Ashley's beloved Southwest. To walk in the Beauty Way is to live in balance and harmony with the unfolding of all life. Walking the Beauty Way together, we weave ourselves more deeply into the fabric of the earth, herself. Porangui's forthcoming album, Beauty Way, will be released incrementally over the summer.

Hózhóogo naasháa doo. May we all walk in beauty.

Ashley Klein

Ashley Klein (Ed.S) is a dancer, embodiment guide, retreat facilitator, and music business manager based in Sedona, Arizona. She collaborates on and off stage with international touring artist, Poranguí, with the mission of sharing earth-based wisdom through the healing power of music and dance.

Her life-long movement practices and training have led her to a current focus on facilitating Dancing Freedom journeys and continuing to study the polyrhythmic dances of the African diaspora. She is on the international Dancing Freedom training team and facilitates at festivals, retreats, and concerts guiding audiences into a deeper connection to the Earth Mother and the elemental wisdom innate within us all. Her spoken-word guidance is featured on the live album, "Poranguí - Guided Journey", as well as several remix tracks on "Poranguí - Remixes Vol I & Vol II".

Additionally, Ashley co-creates retreats based in Sedona and around the world, curating containers for individuals to dive deep and feel held safely to become more of their authentic connected selves.