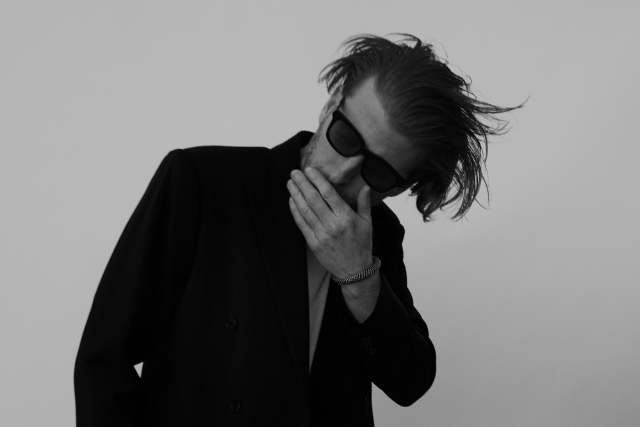 Shaded

''I'm floating in my own abyss of chunky techno and liquid house." – SHADED

SHADED has a signature sound. It's a weaving combination of driving, psychedelic vibes and funk inspired textures. His sound is undeniable in character, and whilst his production style is constantly evolving, he always stays true to his Southern California roots.

As a slew of new and recently released material will all attest, SHADED is on fire in every sense of the word. His release schedule is now packed for 2021 and over the past two seasons, he's signed music to all the labels he had as key targets, namely Dirty Bird, Hot Creation, Turbo and Trick. His huge Mad Stacks release was hammered and championed by label boss Jamie Jones and BBC Radio 1's Pete Tong alike. And he has fans across the globe in such luminaries as Dubfire, Tiga and Patrick Topping. If you're a long-term fan or just discovering him through DirtyBird, Solardo or Turbo Recordings channels, there's never been a better time to light the touch paper and indeed get lit.

"My new material is my best to date," he says. "By that I mean I feel I have finally found my place, my sweet spot. I always knew my place, but now I am comfortable in it and don't give a fuck what other people think. I literally do not worry about pleasing anyone with my music, now. I use to sometimes worry that people might think that some of the music was leaning too far away from my signature SHADED sound, but now I just don't care. I don't think. Evolving is my favourite part about making music." Skyler says pushing boundaries is all he cares about, and Ali 'Dubfire' Shirazinia has been his mentor and a key inspiration "since I came up in this industry. He has believed in me since we first meet, which I am forever grateful for." He's also quick to name-check Tiga "because he always marched to the beat of his own drum" and also Sven Vath "as his Cocoon sound of the 3rd season disc with Richie Hawtin changed my life!"

Some die-hard fans may know SHADED from the SHDWPLAY duo days. After a string of successful releases together on the aforementioned Dubfire's SCI+TEC imprint, he ventured down the solo path which ultimately proved the right move, with releases like "Be My Binge", 'Dwell' and 'Crayzy'. Still great friends today,

it wasn't long until Turbo's head honcho Tiga picked up on SHADED's fresh approach, and led to a total of 5 EP's on Turbo which includes the label's best-selling release and Mixmag's 'Tune of the Month' for 'She She' to "Body Feels", which was heavily supported by Loco Dice, The Martinez Brothers and Martin Buttrich. He's also a key associate with Oliver Huntemann's Senso imprint: in fact, he appeared on the imprint's 5th birthday release this past summer with a belter of a tune titled 'I Got Haters'. His remix schedule has been equally slick and serene, with reworks for Tiga, Boys Noize, Oliver Huntemann, Dubfire and his Beatport No.2 minimal remix for Christian Smith in 2017. SHADED's remix of 'Rising' (SHADED's Realized Dreams Remix), a tune by Anabel Englund and company, was bestowed with the coveted Essential New Tune from Pete Tong, and was played extensively by Danny Howard and Mistajam on BBC Radio 1 alike. His twisted remix for a Joyce Muniz track 'Chapter 4' featuring Aquarius Heaven on Exploited hit hard in 2019, then his 'Rippple' EP was unleashed on Senso. Following further releases on Desert Hearts and an EP back in the Turbo fold for early 2020, Skyler then made his debut on Jamie Jones' Hot Creations label with the hugely supported jam 'Mad Stacks'. "Some of the first parties I use to go to in LA were these roof top parties and Jamie would play a fair amount of them," remembers Skyler. "He rolled through LA regularly, before Hot Creations existed. I had always wanted to drop him music for the label. Over the years, and with the coming of age of Paradise, I saw Jamie getting involved more with the techno side of the scene, and it felt like the right time to send in some demos. So it is really cool for me that the first track I sent him hit the button!" It also looks like there will be another piece of music happening between SHADED and Jamie, but we'd hate to break the exciting news too early.

When asked about his musical style, Skyler emphasizes his diversity. "No matter what party you are at – online or otherwise! - my music will work great." The story behind it is like any other SHADED track: "I get in the studio, put together a bread-and-butter kick/bass/snare combo and start recording vocals. I experiment so much with my own vocals that people never believe they're my own. I have so much fun writing little vocal hooks, bits that stick in peoples' heads. So it's cool to hear when people tell me "'Mad Stacks' is stuck in my head!"

And while we're all figuring our way through lockdown, SHADED's music has continued to keep the proverbial party moving. One such EP was "Holla Atcha Boy" which was – naturally – championed by industry figurehead Claude VonStroke and a key release on DirtyBird last November across all the right digital and streaming platforms. The previous release on Turbo, 'My Stimuli', also connected the dots from electro to hip hop to house to indie-dance and reminded everyone why he's such a good fit for Tiga's sensibility and a forthcoming club release on Pets looks set to continue SHADED's upward trajectory as an artist and studio presence. All in all, the ever-moving and funk-shaking Skyler is on a mission to spread the SHADED vibe to as many people in as many ways as possible, and who are we to stand in his way?