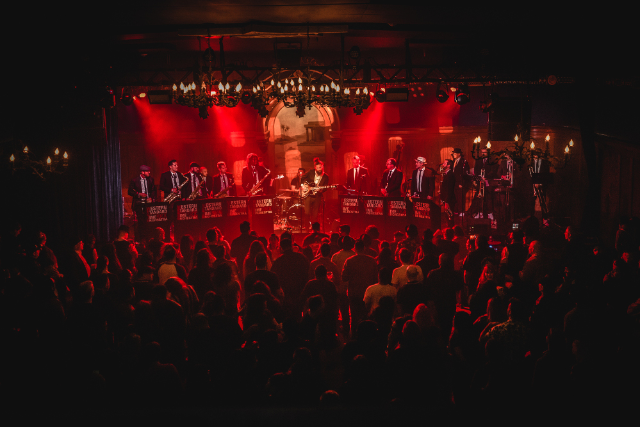 Western Standard Time Ska Orchestra

Western Standard Time Ska Orchestra is a raw, powerful and in your face musicalexperience. This massive 20-piece group of All Star musicians is a spectacle to bothwatch and hear. With a horn section three times bigger than most other ska groups,WST breaks barriers and expands your imagination for what is possible. The groove ishard hitting and will definitely make you dance all night!WST Ska Orchestra has wowed fans headlining festivals both domestically andabroad in Mexico, Canada and throughout Europe. It boasts a killer All-Star lineup fromthe fabled West Coast traditional ska scene with members from The Aggrolites, BeastieBoys, Hepcat, Gogol Bordello, See Spot, The Allentons, Mobtown, Kingston 10, TheDebonaires and many more. They have also collaborated with a number of vocalistsover the years including Angelo Moore from Fishbone, Jesse Wagner from theAggrolites, Greg Lee and Alex Desért from Hepcat, Chris Murray, The Expanders, GinaSaputo, Queen P, Vic Ruggiero from the Slackers, Mr. T-Bone from Italy and manymore. This group of Jamaican Jazz gunslingers is rebranding the music of yesteryearand propelling it into the future!

Third Project

From 1979 through the early 80's, the gents from Third Project became instant fans of the movement and the music. The band has been performing regularly in So Cal since 2011 and belts out upwards of 40-45 authentic, high-energy tunes per show! Third Project has many influences, including The Specials, The English Beat, Bad Manners, Madness, The Selecter, The Clash, The Jam, Joe Jackson, The Cure, Elvis Costello, Oingo Boingo, Hepcat and much more… Whether it's opening for a national touring act at an awesome venue, or in a friend's back yard for a private party, Third Project brings that punky ska-reggae vibe alive at every performance!