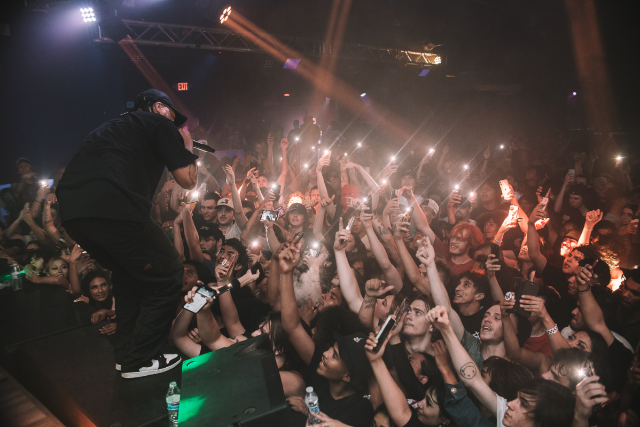 Xavier Wulf

Xavier Wulf is a man possessed. When he has a dream or sets a goal, it consumes him. When he hears a beat, it takes over his body, commanding him to speak, shout, and let out the rage. As an artist and a person, he is quite literally driven by something beyond himself — maybe that's a little on the nose for a rapper known for his deep love of street racing and drifting, but it's also an apt description for his process. When Xavier clicks with an instrumental, he closes his eyes, puts the lyrical pedal to the floor, and lets it all out, following whatever road feels right.

As the title of his latest project suggests, Xavier's new GaragePUNK EP is informed by the high energy of the punk rock, heavy metal, & hardcore music that's often influenced his sound, but it's also an expression of the endless hours he's spent toiling on his cars in the shop. You can hear and feel the clanking metal, the greasy Vans, and all the cuts and bruises that come with getting under the hood in this collection of mosh-pit anthems produced by regular collaborator Quintan Lamb.

The pressures of the music industry lead so many artists to actively change themselves, to keep in touch with trends and conform to the ever-changing expectations of the market. Xavier takes an approach that, despite the aggression you might feel in his music, is more thoughtful and removed, constructing an entire universe of his own. Xavier's music has always been shaped by his love of anime, and as an artist he often saw himself as the protagonist of his favorite shows: the mysterious wandering ronin with an ice cold blade, the vampire hunter out for blood, the supernatural warrior defending his family from ghosts. But something's changed with GaragePUNK: "All my music before this, I saw myself like an anime character. This is my first project as a human being."

These days it's fashionable to look down South for samples and sounds, but as a native of the 901, Xavier Wulf has been making hardcore Memphis music since long before it was cool to remake Three 6 Mafia classics. His sound is classic underground Memphis to the bone, but it's not at all stuck in the past or cashing in on nostalgia. Xavier takes spare parts from the music he grew up with and puts them under a sleek new hood, the muscular engine of a candy-painted Cadillac in the body of a Japanese drift car. The city's distinctive car scene is often forgotten when talking about Memphis rap—the thick 808-heavy beats of Hypnotize Minds and 8Ball & MJG were designed with trunk speakers in mind. In addition to his childhood love of Fast & Furious and Need For Speed, Xavier grew up going to car shows in Memphis and eventually got turned onto the customized and turbo-charged Nissan Skylines and Honda S2000s of the underground drift world.

When Xavier's enthusiasm for anime led him to the cult series Initial D, about a phantom driver who drifts in the mountains outside Tokyo, everything shifted into a different gear. It's not just the Initial D samples or car references but an extra boost of nitro to his bass-driven sound, which begs to be heard from the biggest car sound-system you can find. YouTube and SoundCloud may be where Xavier Wulf made his name, but it's in the garage and the literal streets where he's found a true lane of his own: now he dreams as much about becoming the world's greatest drifter, having his own trailer and a pit crew, and eventually teaching his kids to drive as he does rapping.

Xavier might be one of rap's reigning underground kings, but he readily admits that he didn't get to where he is alone. His name and image might suggest a lone wolf, but Xavier has always run with a tight pack: first as one of the original architects of the infamous and influential Raider Klan collective, and later as a core member of SESHOLLOWATERBOYZ along with BONES, Eddy Baker, and Chris Travis. There's an incredibly real connection between Xavier and his fans, who he prefers to call "supporters," which you can feel in the raucous atmosphere of his shows and see in the countless producers and rappers out there who have been inspired by his music. That mutual respect between artist and audience runs deep, because Xavier isn't just using his listeners as a stepping stone to larger celebrity or clout. He cares deeply about how his supporters respond to his music: "I take my music seriously and I want it to be heard in the right way. I didn't put my face out there when I was starting out because I needed people to hear the music, not see me." In a very literal sense, his music might not exist if it wasn't for the audience; Xavier lets the music come to him, opening up his inbox to beat submissions from fans, a way of giving back to his supporters while also finding new styles and undiscovered voices. "When I was growing up listening to Three 6 Mafia and Memphis music, I wanted to get my own piece of that sound. Now kids listen to my music, and they want their own piece of it, they want to make something like that too." For over a decade now, Xavier Wulf has been consumed by a spirit outside himself to create—his music possesses, haunts, and pushes his listeners too.

Eddy Baker

It's hard not to love Eddy Baker, a master of juxtaposition, and a trailblazer of underground rap. His husky frame humbles his gravelly voice, his slight lisp humanizes his trap-focused lyrics, his sinful habits grind against his devout Christianity, and his nihilistic lifestyle characterizes his role as the CEO of Healthy Boyz, his immediate rap group with Chilly Sosa, Johnathan Kash and CelesKarter. In the early 2010s, Eddy Baker first appeared as a member of Raider Klan, the underground supergroup that first popularized phonk, a demonic breed of trap inspired by 90sMemphis-rap, Texas horrorcore, and niche internet phenomena. Phonk soon spread across SoundCloud, leaked into the mainstream, and became an intrinsic element of the trap sound we know today. When Raider Klan-which included Denzel Curry, SpaceGhostPurrp, Ruben Slikk,and dozens more-disbanded in the mid-2010s, former members Eddy Baker, Chris Travis, and Xavier Wulf (fka Ethul Wulf) formed SESHOLLOWATERBOYZ with bones and went on to become the most dominant underground rap group of the 2010s. Now, Eddy Baker makes catchy 80s-inspired love songs, Mexiko-Dro-style trap anthems, and G-Funk bops that honor his California roots. From the Pro Club to the Dodger fitted, Eddy radiates a SoCal charisma that cannot be faked. Even so, his music exists cross-regionally, timelessly, and ahead of whatever comes next

IdontknowJeffrey

Mikey Rotten

Born in the swamps of Louisiana, bubbling through the gutters of Indianapolis, MikeyRotten has fought his way through the pits of warehouses, dive bars, and venues across the US with his unique aggressive punk influences rap sound and is now loose in the streets of DTLA. With his Southern and Midwest influences coming from the hardcore, rap scenes, while dabbling in the bass music realm and gaining support from artists such as Eddy Baker, Chris Travis, and Xavier Wulf; Mikey brings a unique energy to the modern underground rap culture.