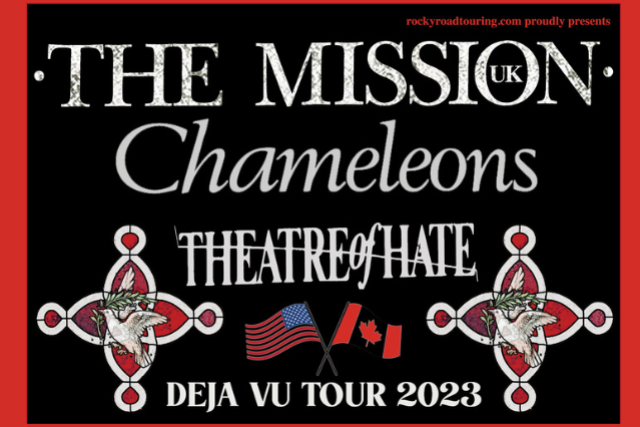 The Mission (UK)

The Mission are an English gothic rock band formed in 1986. Initially known as The Sisterhood, the band was started by frontman Wayne Hussey and bassist Craig Adams, soon adding drummer Mick Brown and guitarist Simon Hinkler

The Chameleons

The Chameleons are an English rock band formed in Middleton, Greater Manchester in 1981. The band consisted of singer and bassist Mark Burgess, guitarists Reg Smithies and Dave Fielding, and drummer John Lever. The band released their debut album, Script of the Bridge, in 1983

Theatre of Hate

Kirk Brandon formed Theatre Of Hate from the ashes of heralded punk band The Pack. Joining Kirk on vocals were notable punk musicians Stan Stammers and Luke Rendall, along with old school friend, Steve Guthrie and Canadian born John "Boy" Lennard, who revolutionised the band's sound with his haunting sax lines.

In 2018, Kirk, Stan and John will be joined by current Spear Of Destiny band member Adrian Portas (New Model Army) on guitar and Chris Bell (Hugh Cornwall) on drums to pay homage to the iconic TOH sound.