RESCHEDULED TO 9/10/2020
Beckylin & Her Druthers
•
Quel Bordel
Jazz Country Folk
Fri
Mar 27
9:00 pm
PDT
(Doors:

8:00 pm

)
All Ages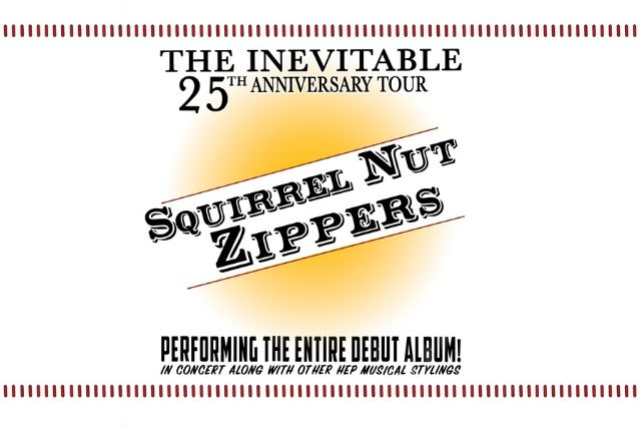 This event has been rescheduled to September 9, 2020. All tickets purchased from the March 27th date will be honored. Purchase tickets here.
Squirrel Nut Zippers
Jazz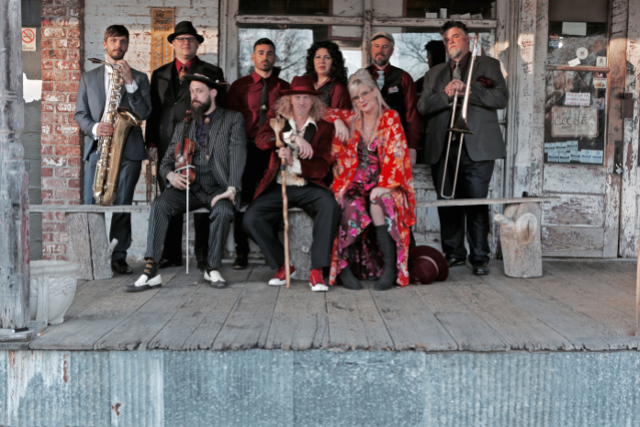 Formed in 1993 out of Chapel Hill, NC, Squirrel Nut Zippers are a renowned eclectic fusion of Delta blues, gypsy jazz, 1930s–era swing, klezmer, and other styles makes them hard to categorize, their unique music found a niche in the late 1990s, when the band met with national recognition and commercial success, sometimes associated with the Swing Revival of the same period. Breakthrough single " Hell" went into the top 10 on Modern Rock. Catalog sales of more than 3 million records. Milestone performances: Radio City Music Hall with Tony Bennett, President Bill Clinton's Inaugural Ball, 1996 Summer Olympics, Sesame Street, Letterman, Leno, Regis and Kathy, Conan, Dick Clarks NYE, 1997 tour with Neil Young, multiple sold out headline tours and private shows for Microsoft, Daimler Chrysler and others.

2016 will mark the 20 th anniversary of the Squirrel Nut Zippers most celebrated and commercially successful album Hot. Originally released in the summer of 1996, Hot was the follow up to the band's critically acclaimed debut The Inevitable. By this time the group had already established a substantial live following across the country thanks to early support from NPR, college radio and non-commercial stations.

Shortly after the release of Hot, the Zippers caught lightning in a bottle with "Hell." MTV added the song into heavy rotation, modern rock radio stations pounded the track on air, and the album flew into the Top 30 on the Billboard charts. Audiences doubled and tripled in size and the band found themselves performing everywhere including at President Clinton's Inaugural Ball, the Summer Olympics, on tour with Neil Young and Tony Bennett and even performing on Dick Clark's Rockin' New Year's Eve. Hot wound up selling over 1.3 million copies.

Pitchfork, which was in it's second year of operation at the time, raved about Hot giving it a 9.5 and saying: "When you first splashdown into the CD, ya hit this realization: that people even older than your parents liked music like this. …Hot is exuberant, gin house swing without apologies and it rocks without pretense. If you can manage to resist liking it, you must be dead."

In honor of the 20 th Anniversary the album, the bands visionary creator Jimbo Mathus, along with founding member and partner Chris Phillips (Drums), have crafted a brand new stage show including singer Ingrid Lucia (Flying Neutrino's), and long time members Stu Cole (Bass), Henry Westmoreland (Baritone Sax) and Charlie Halloran (Trombone) and Je Widenhouse (Trumpet) plus other guest musicians with a New Orleans flavor. It will be the band's first tour of North America in seven years and is likely to include select guest artist's the band has worked with through the years.

"We've been quiet for long enough," remarked Chris Phillips. "Honestly, we still love performing the songs from such a unique and rambunctious catalog. When it was brought to my attention that 2016 was the 20 th anniversary of Hot I knew the timing was right. We take great pleasure in the sense of togetherness we maintain with our fans and especially from the fact that the audiences have such a wide age range - from young to old and those in between. Even the old are young at heart when they are at our show…."

Fans and critics alike have always have always had difficulty pigeonholing the bands unique sound. Some have called it a perpetually confused stew of Southern Roots and Surrealist paintings. One critic aptly tagged them as "'30s punk. However NPR's Morning Edition might have said it best when they said: "It's not easy to categorize the music of the Squirrel Nut Zippers, except that it's hot."
Beckylin & Her Druthers
Country
Beckylin & Her Druthers are based out of the Bay Area, California, and play classic Wig Country with a catalog spanning the late 40s through the early 80s

Beckylin is also known as Rebecca Lin Coseboom of Stripmall Architecture and Halou

"Rebecca Coseboom – a female front woman with an incredible voice – proves she has enough swagger and sway to keep things interesting without ever being overstated"– CMJ

"Rebecca Coseboom's voice flutters around your head like a silky scarf" -The Stranger, Seattle

"Rebecca Coseboom sounds pretty damn good regardless of the genre" - Obscure Sound

"Rebecca Coseboom sings with a rarefied, alluring intimacy" - The Today Show
Quel Bordel
Folk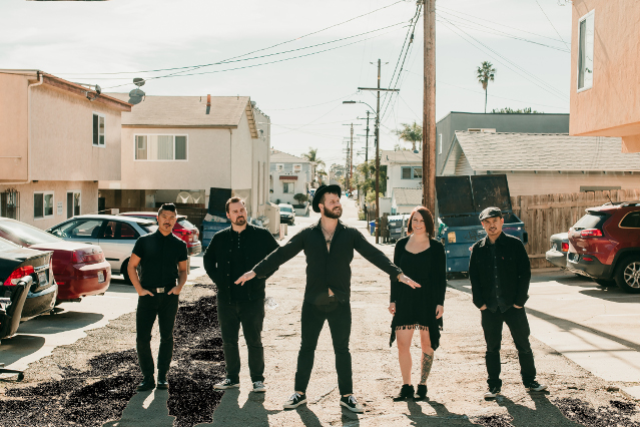 QUEL BORDEL (QB!) was formed in San Diego, CA in 2013 w/ a Ukrainian, two Filipino brothers, and a punk rock drummer — after 5+ years, multiple releases, and over 150+ shows a year, they have toured the world a couple times over and made a small dent in their local music scene.
After the release of their first full-length CD, "Caravan Treasures" (nominated for Best World Music Album by the 2015 San Diego Music Awards), QB! reveled in a three-week international festival tour with French folk group BandàpArt (headlining Coin de la Vigne, & FestiBaloche in France), which they repeated this 2 years ago 2016 in the US (headlining Crestfest in Colorado, SD GypsyFest in San Diego, and others) amid several regional tours and resident gigs as well. 2017 saw increased regional touring with a full European Tour (headlining Coin de la Vigne again in France, as well as performances at FestiBaloche (Olargues, France), and Highmatland Festival (Leutkirch, Germany) a motif that has continued on as the band continues to maintain a vigorous touring schedule.
Noted for their wild performances and danceable beats, QB! has headlined sweaty, high-energy shows at House of Blues Mainstage and The Casbah, and has performed at the Get Shamrocked festival 5 times — and has also opened up for Flatfoot 56, Metallachi, The Rum Jacks, The Real McKenzies, Diego's Umbrella, Sprung Monkey, Magic Giant, Young Dubliners, Dublin City Ramblers, and many others. They also boast several television slots (including a feature on TLC's Breaking Amish), as well as new music in the pipeline (three EP's released in under a year and two more on the way), and a supergroup tour with BandapArt in the winter, as well as southwestern US tour in May 2019 and Canada in June 2019.
Keep an eye on the Future Concerts section to find out when they are coming to you!!