Fistfights With Wolves
•
Belladon
•
Le Ra
•
Moans
Rock Pop Jazz Alternative
Thu
Jan 30
8:00 pm
PST
(Doors:

7:00 pm

)
Ages 21 and Up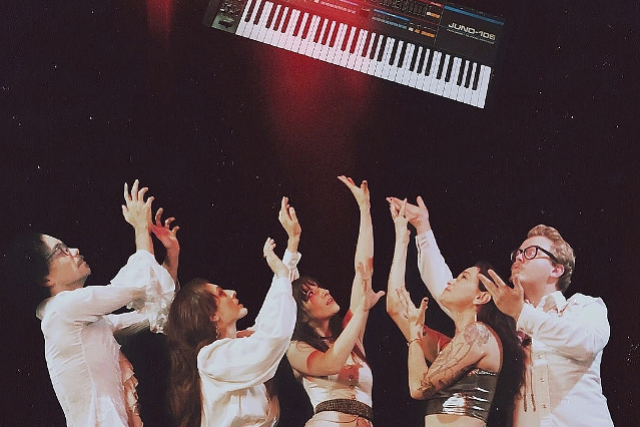 $12.00
Fistfights With Wolves is a progressive rock 8 piece, comprised of a revolving lineup of Southern California classical and jazz musicians. Started in 2010 by Mathew Rakers and Ryan Bradley under the name Interrobang, FFWW has played shows up and down the west coast, from Mexico to Oregon.

Not on the e-mail list for Presales? CLICK HERE to sign up to be a Music Box VIP and you will never miss a chance to grab tickets before they go on sale to the general public again!
Genre: Rock
Ticket Price: $10 advanced / $12 day of show
PARKING: Street parking and paid lot parking available.
TABLE RESERVATION / VIP: vip@musicboxsd.com / (619) 836-1847
STALK US: Twitter + Instagram: @MusicBoxSD | facebook.com/MusicBoxSD | MusicBoxSD.com | Music Box (619) 795-1337.
BOX OFFICE HOURS Monday - Friday 11:00am - 4:00pm
MUSIC BOX IS STANDING ROOM ONLY UNLESS OTHERWISE NOTED
Fistfights With Wolves
Rock
Belladon
Pop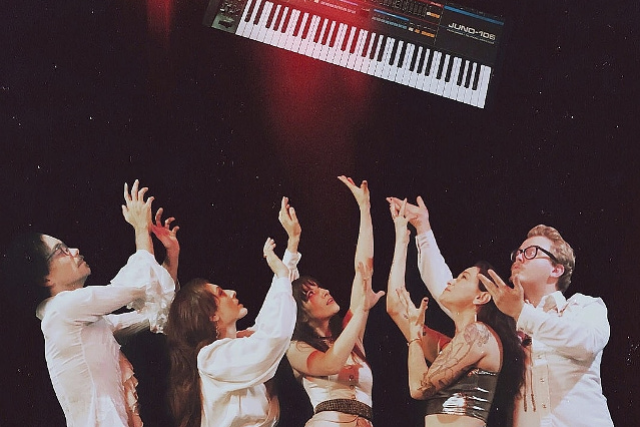 On the hunt for never ending synth sounds and angelic harmonies, Belladon has been embraced by the San Diego community rather quickly. With only 3 singles out they have already been nominated for a San Diego music award for best new artist. They were featured on "A Red Trolly Show" (sponsored by Karl Strauss brewing co.) have had radio support from rock 105.3 for local spotlight and from 91x for their single releases. At their first Los Angeles gig they were invited to 4th street recording (artist such as Mick Fleetwood, the Beach Boys, and Alice Cooper are past clientele) to record their latest single, Carnival. They have been a featured artist on Women Who Rock, Treble Zine (www.treblezine.com) a music blog based out of San Diego, and have worked with Grrrl Independent Ladies, a respected platform here in the Southern California putting events together with bands from Tijuana, San Diego and Los Angeles. San Diego's local Arts publication City Beat has covered multiple shows describing Belladon as a 80's throw back to the Bangles. Treble Zine description was "glamorous electronic rock that demands more attention. A unique blend of three-part female harmonies from Aimee Jacobs (synths), Anastasya Korol (synths), and Heather Nation (lead guitar) echoes an era of fun, frantic tarantellas when the ladies of the B-52′s, Bangles, and X-Ray Spex first forced their way to the front"- Adam Blyweiss.
The founder of the project, Aimee Jacobs (former synth player and second vocalist of the Burning of Rome) started the group with Anastasya Korol at the San Diego Music and Art Cooperative, where they both work as music educators. Both women sing lead and play synth, focusing on harmonies between the vocals and keys. Their listeners describe them as prog pop or synth pop. It is pop music but not conventional in it interpretation. Heather Nation is the bands lead guitar player and back up vocalist. The groups rhythm section is drummer Billy Petty and Alex Bravo on bass. All the players of the project are well seasoned performers and educators in the music community and it shows in their composition and performance. Belladon has been an active band since June of 2017. They are unique for their interplaying synth melodies but also their three part female harmonies. Prince, Kate Bush, Siouxsie Sioux or Bjork would swim along Belladon's sonic waters comfortably. But it's Belladon's ability to have multiple melodies interacting without losing focus, that sets them apart from expected contemporary tracks. "HAISA" their previous release has sections where the two synths, guitar and vocalists have leading melodies creating wall of sound. The effect is similar to the fun adrenaline you get when doing something just a little terrifying .
Belladon is creating pop music for a more attentive listener and clearly has no interest being the background ambience of your conversation. The balance between the male driven rhythm section, and femme fatale of the members is captivating, dueling, and nuanced. Belladon's small but growing catalog is unique. Beautiful while also aggressive and dripping with personality, their double LP will be released Jan 2020.
Le Ra
Jazz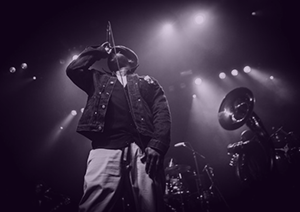 Le Ra is an indie/rock band formed in Tijuana/San Diego in early 2010 by front-woman Mónica Mendoza. Le Ra's sound has progressed with major influences spanning from brit-pop, to rock en español and bossa nova. The project has had a few releases that include EPs 'Moving' in 2011 and 'Big Sky' in 2012. They are currently working on releasing their single 'Sin Nombre' on Sept 20th 2018 from their upcoming full length 'Limbs' that is set to be released Oct 4th of 2018 through Respectful Lust Records.
Their current line-up consist of Mónica Mendoza (vocals, guitar, keys) Ida Naughton (backing vocals, bass) Maribel Luna
(backing vocals, drums) and Luis A. Lopez (percussion).
Moans
Alternative